Year 2
Welcome to Excellent Elm's class blog page. Check here weekly to see what we have been up to!
Year 2 notices
This term, PE will take place on a Tuesday.
Spelling tests will take place on a Friday and will be based on the spellings that have been sent home on the previous week.
What a fantastic start to the new year!
It has been so lovely to see our new year 2's come to school so happy and eager to learn. I have loved to see each of them reunite with their friends after a well deserved 6-week rest.
This week, in Elm class we have been thinking hard about our emotions and how to regulate ourselves. The new year 2's have enjoyed using their lollipop sticks and thinking about what zone they are in throughout the day. I can't wait to see how this progresses over the year.
In maths, we have been revising what we already know about numbers to 20 and they have definitely been showing off their skills and challenging themselves! In T4W we have been refreshing our knowledge of descriptive sentences and have even had a go at writing sentence of 3's using 3 different adjectives to describe something! Everyone had such fantastic ideas!
In art, year 2 have started to think about tone and how different pressure shows different pencil marking. We were able to create some fantastic gradient pieces out in the lovely sunshine on Friday afternoon.
This week, Elm have been utilizing our new and improved outdoor area and have absolutely loved it. They have been working as a team to build a house using loose materials and have also made a delicious mud pie. We have a new sand area and water tray with lots of toys for KS1 to play with, and it has been fantastic to see our mud kitchen utilised again this year.
A huge well done to all the year 2's this week for all their efforts. I can't wait to see them all again next week for more amazing learning!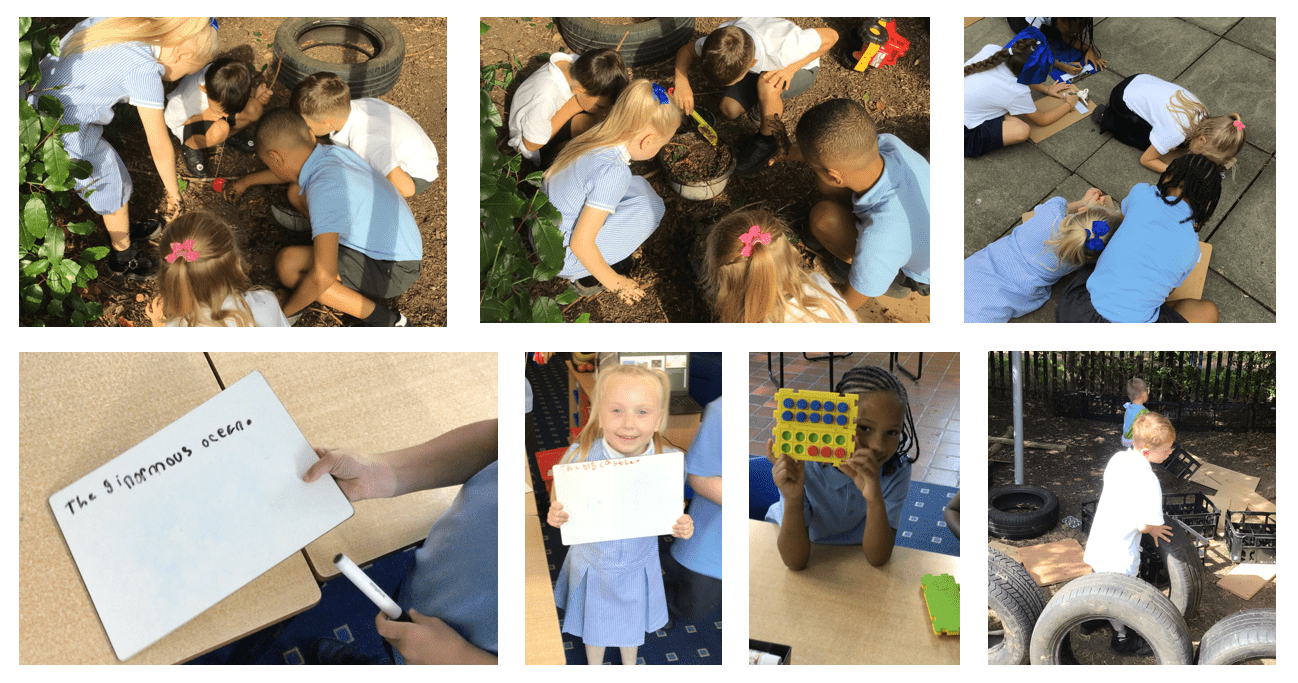 Another fantastic week for year 2!
We have continued our maths learning of place value by exploring counting in 10's and 1's. Year 2 have been practising representing numbers using our base ten resources and have now moved on to representing numbers through drawing. They have done such a fantastic job; I can't wait to see how their maths learning progresses next week!
In science, Elm have been exploring different materials and our lesson focus was 'can we change the shape?'. We explored many different materials and tested whether they could bend, twist, stretch or squash. We had lots of fun feeling different materials. Year 2 were able to make accurate predictions along with an explanation.
In art, year 2 were exploring texture and had a go at drawing different textures on a page. They enjoyed trying out different patterns to make texture, they are such a creative bunch.
Thanks for an excellent week, Elm. Have a lovely weekend!
Year 2 have had another awesome week this week!
In T4W we have been focussing on settings and how we can help a reader build a better picture with our fantastic writing. We focused on telling the reader the time of day and weather, similes to describe a setting, using prepositions to extend and sentence of 3's to give the reader more detail. Year 2 have done a fantastic job and have worked really hard!
In maths we are continuing our place value journey. We have been able to successfully represent numbers and have been able to use a place value grid to show tens and ones. Year 2 have also been exploring comparing and ordering numbers.
Science this week has been full of experiments and exploring. Elm class split into 2 groups to find out whether different materials could bend, stretch, twist or squash. They made a few predictions first and were then able to explore freely. They really enjoyed feeling the different materials and had incredibly accurate predictions.
Thank you so much for a great week with some fantastic learning. Have a lovely weekend!