Transition Brunch
Transition Brunches will be held for children in Early Years to Year 5 during the week beginning Monday 13th July on the school field (weather permitting). Please read the letter and timetable below for further details about your child's transition.
Black Lives Matter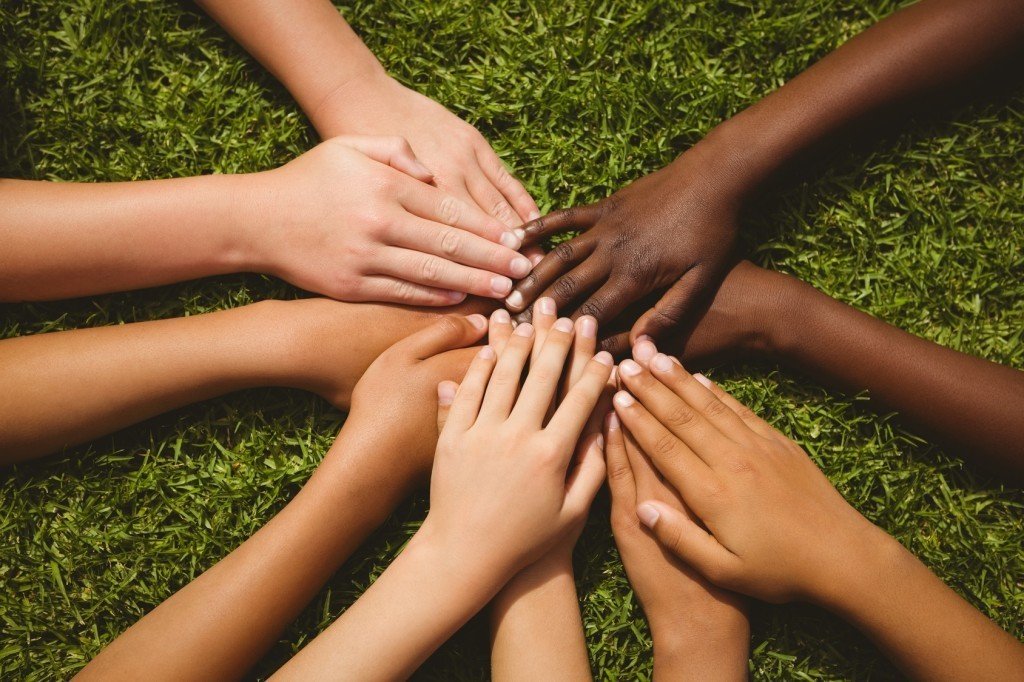 'No one is born hating another person because of the colour of his skin, or his background, or his religion.
People must learn to hate, and if they can learn to hate, they can be taught to love, for love comes more naturally to the human heart than its opposite.'
Nelson Mandela
Given the demonstrations across the UK and around the world following the death of George Floyd and other black people, if our school was open as usual to all our students we would have addressed some of the issues raised in America and by the global display of solidarity through an assembly and our Jigsaw sessions. Sadly, at this time, that is not possible. So we are putting together a remote assembly, which we will share with the students at school but that you can also share with your children at home.
#TeamLangland

stand up against hate crime!
Latest News
Click here for Breakfast Club September booking details and Wrap Around Care information
A Big #TEAMLANGLAND Thank You!
The UK has seen many unsung heroes and Langland is no exception. As during the last 14 weeks, Dave Powell, husband of Mrs Powell Business Manager, has been delivering lunches every day, without fail, during lockdown.
Dave travels in 15 miles to Netherfield to then spend 3 hours delivering food in the local area and as far afield as Great Linford. Not only does he do this Monday to Friday, if he receives a call from supermarkets over the weekend, Dave will get in his car, drive 15 miles or more and deliver the food parcels to whomever needs them.
Does Dave get paid for this? No! He does it because he wants to help the families of #TeamLangland.

We just want to say a massive 'THANK YOU' to Dave for his continued efforts and hope that he will be back on the golf course soon.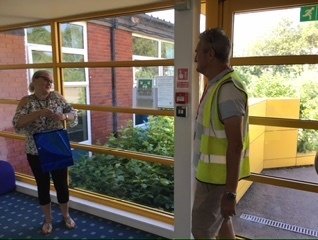 Nursery Places for September 2020
Please call the school office if you are interested in a nursery place for September 2020.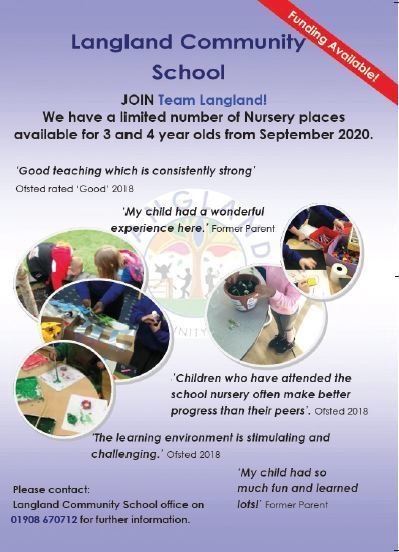 Letter to Yr5 parents re opening 22-06-20.pdf
EY Yr1 Yr6 securing place - letter to parents 16-06-20.pdf
Preparations for June 1st Opening for Early Years, Year 1 and Year 6 children
We have been busy preparing the school for the Early Years, Year 1 and Year 6 children to return on Monday 1st June.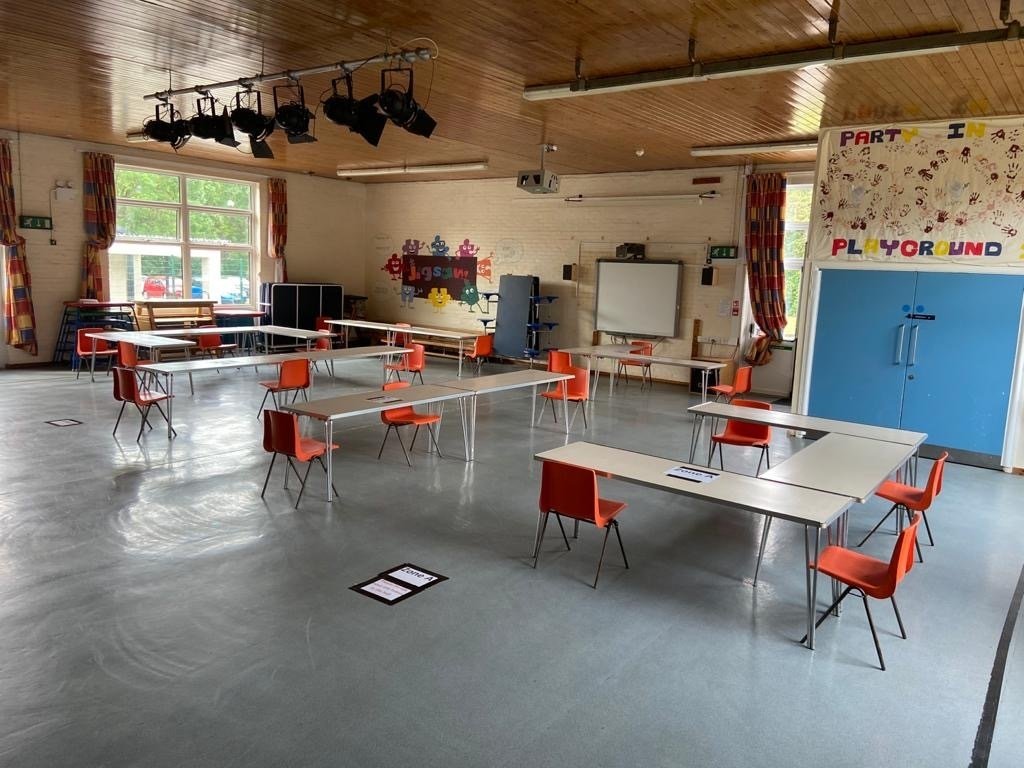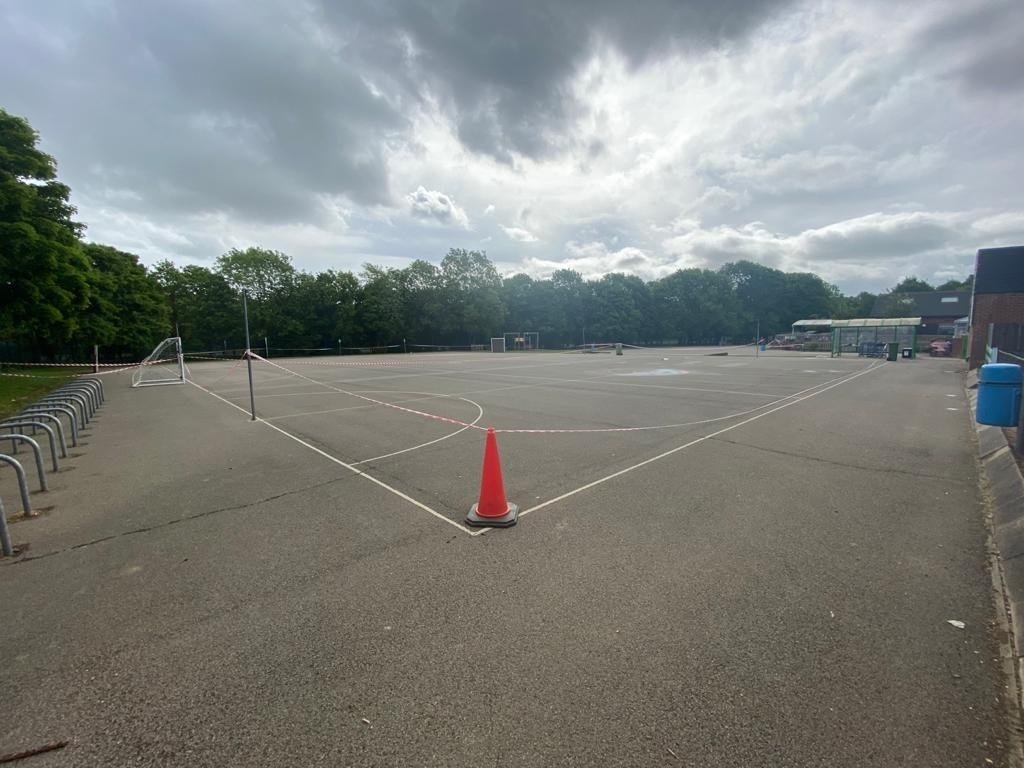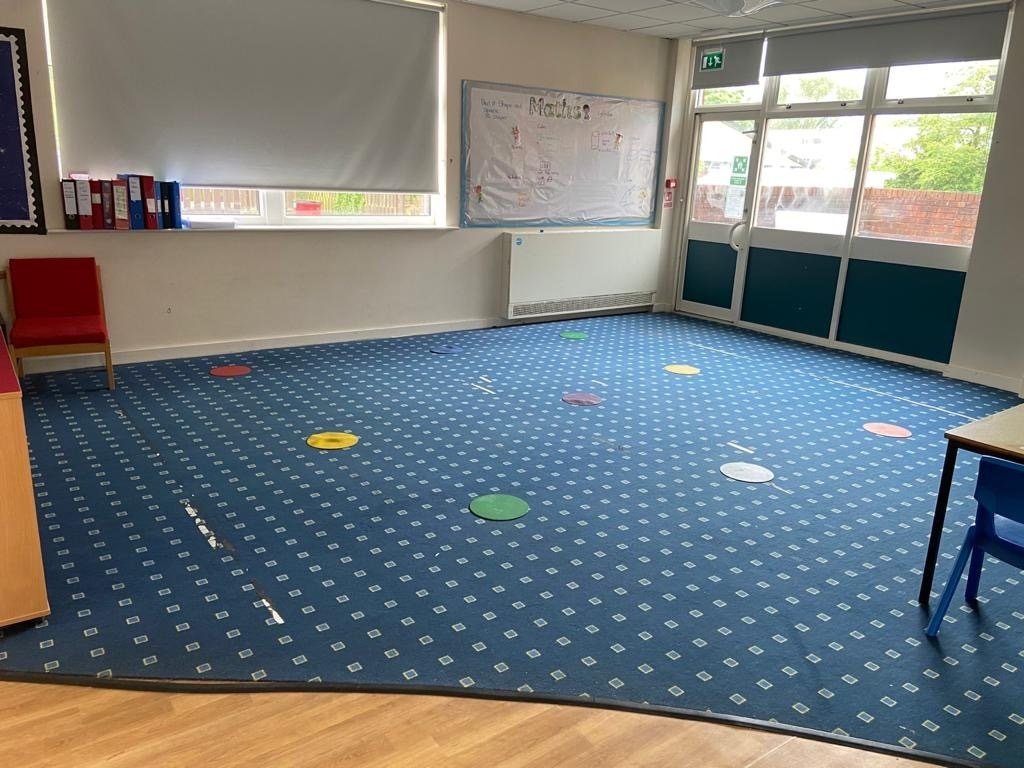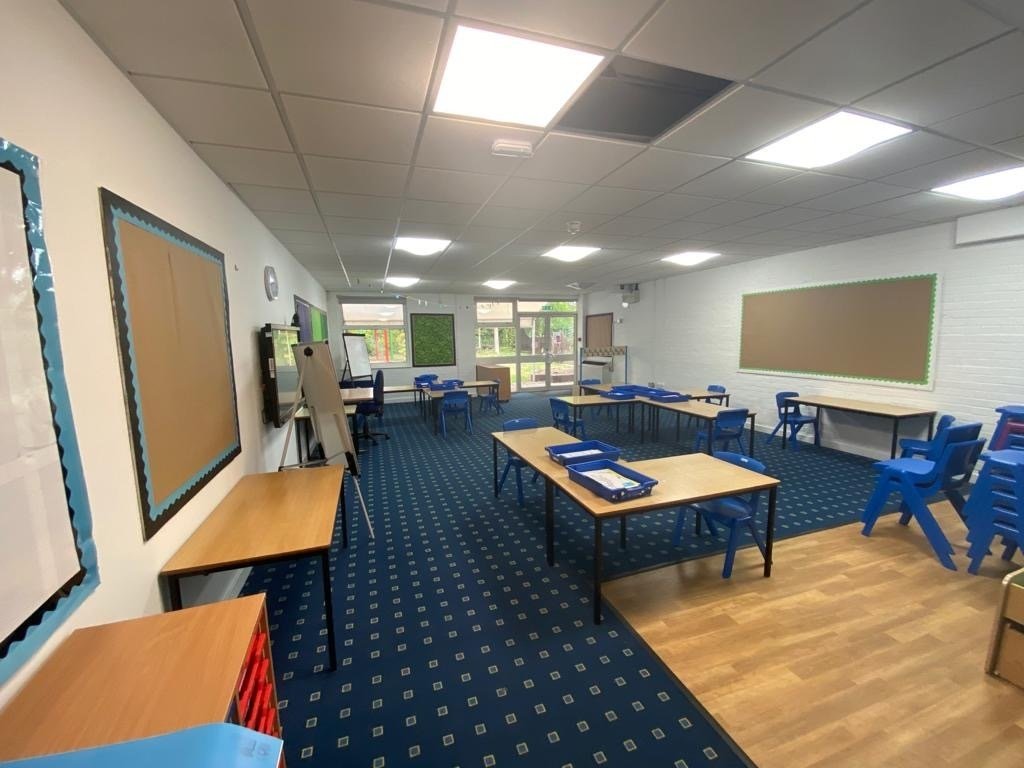 IMPORTANT! Further Letter to Parents
Federation - Covid-19 Letter 9 - 29th May 2020.pdf
NEW! Letter to Parents
Letter to Parents re June 1st Opening
Federation Letter- Covid-19
Federation - Covid-19 Letter 8 - 15th May 2020.pdf
Please read the letter below.
Letter to Parents- Update from the Government announcement on Sunday 10th May 2020
A Letter from Miss Christy
Letter to parents - Summer Term 2020
Food Donations
FareShare is the UK's leading food redistribution charity, fighting hunger and food waste. FareShare redistributes surplus food from supermarkets and suppliers to frontline charities and community groups that support vulnerable people.
Langland Community School are delighted to have partnered with this innovative project.
As a result we have been able to take food parcels to those families in our school community who are at most need during these challenging times.
You can find out more about FareShare at https://fareshare.org.uk/
Covid-19
Federation letter 20th March 2020: Federation - Covid-19
Please read the letter to parents on Key Workers and Vulnerable Groups. Letter to parents - key worker and vulnerable group
https://www.gov.uk/government/publications/coronavirus-covid-19-maintaining-educational-provision/guidance-for-schools-colleges-and-local-authorities-on-maintaining-educational-provision
Online and Home Learning
Our Online Learning tabs are updated regularly and there are many links to online resources for children to access whilst they are learning from home.
Celebrating Home Learning
Well done to Emily for some great hands on Home Learning!
Well done to Paige Jones for some fantastic Home Learning!
New Hat Trick Challenges are now ready! Can you complete 3 tasks per day?
Each week we will be celebrating all the children who are completing their Hat Trick Challenges at home. Ask your grown up to take a photo of you completing a challenge and email it into school.
Well done Petar, great collection of materials. I love your skeletons head!
The Langland YouTube Channel
Welcome…
On behalf of the children, staff and governors, I am delighted to welcome you to the Langland Community School website.
Team Langland is a happy, friendly and caring school with high expectations and aspirations for everyone. At Langland, we aspire to be an inspirational and exciting place of learning, where we can all 'be our best' within a supportive and kind community.
At Langland, 'We have belief in ourselves and each other on our journey of continuous learning.'
We achieve this by following our Community Code: Be our best: Be Ready, Be Respectful, Be Safe and by having a Growth Mindset.
The children and staff at Langland understand that their talents and abilities can be developed through effort, good teaching and perseverance. They know that not everyone is the same, but they believe that everyone can improve if they work hard and do their best.
We teach our children to continually try to have positive attitudes to learning; to improve their own personal best; to work hard and persevere and to view challenges and failures as opportunities to improve their learning and their skills.
We don't say…
Instead, at Langland, we say…

I give up.

It's good enough.

I'm not good at this?

This is too hard.

I can't do this.

My friend can do it.

Plan A didn't work.

I made a mistake.

I'll try a different way.

Is this my best?

How can I get better?

This might take me some time.

I can't do this…yet!

I will learn from my friend.

Good thing the alphabet has 25 other letters.

Mistakes help me to learn better.
We have high expectations for our children's learning and behaviour and we believe that by working together with families, that we can meet these expectations and 'be our best' for now and in the future.
We hope that you find our website informative and helpful and that it gives you a taster of Langland Community School. To arrange a visit, or enquire about information that you may not find on our website, please contact the school office on 01908 670712.
Miss Donna Christy
Headteacher
Latest School Events
Inset Day

17

Jul

2020
Summer Holidays

18

Jul

2020

12:00 am - 31 aug, 1:00 am
Be Our Best! …Be Ready …Be Respectful …Be Safe