Early Years
Take a look at what Early Years have been doing so far this term.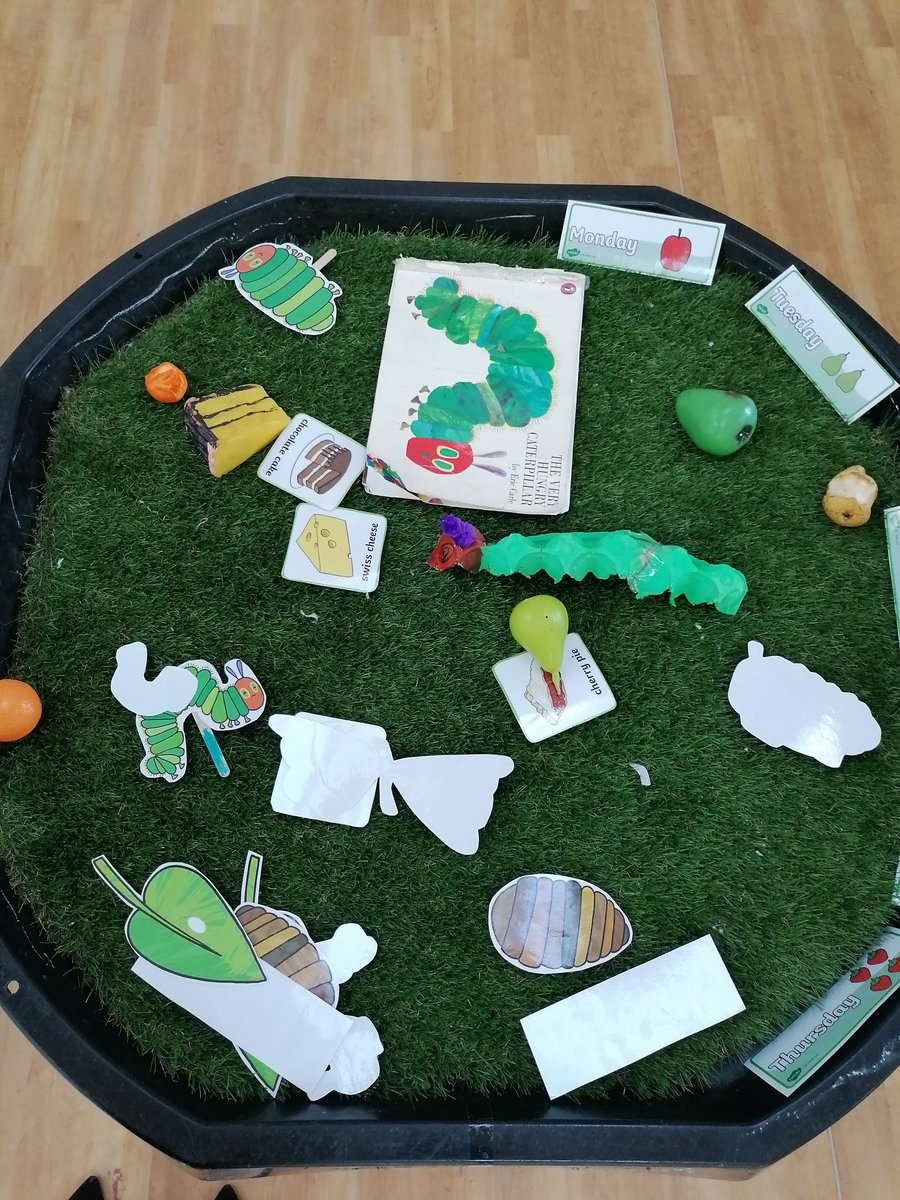 This week, the children have enjoyed their Hook Day for our text "The Very Hungry Caterpillar. The room has been set up with some lovely activities to encourage retelling of the story.
We have also engaged in activities to develop our fine motor skills such as using tweezers and writing pre-writing shapes in salt.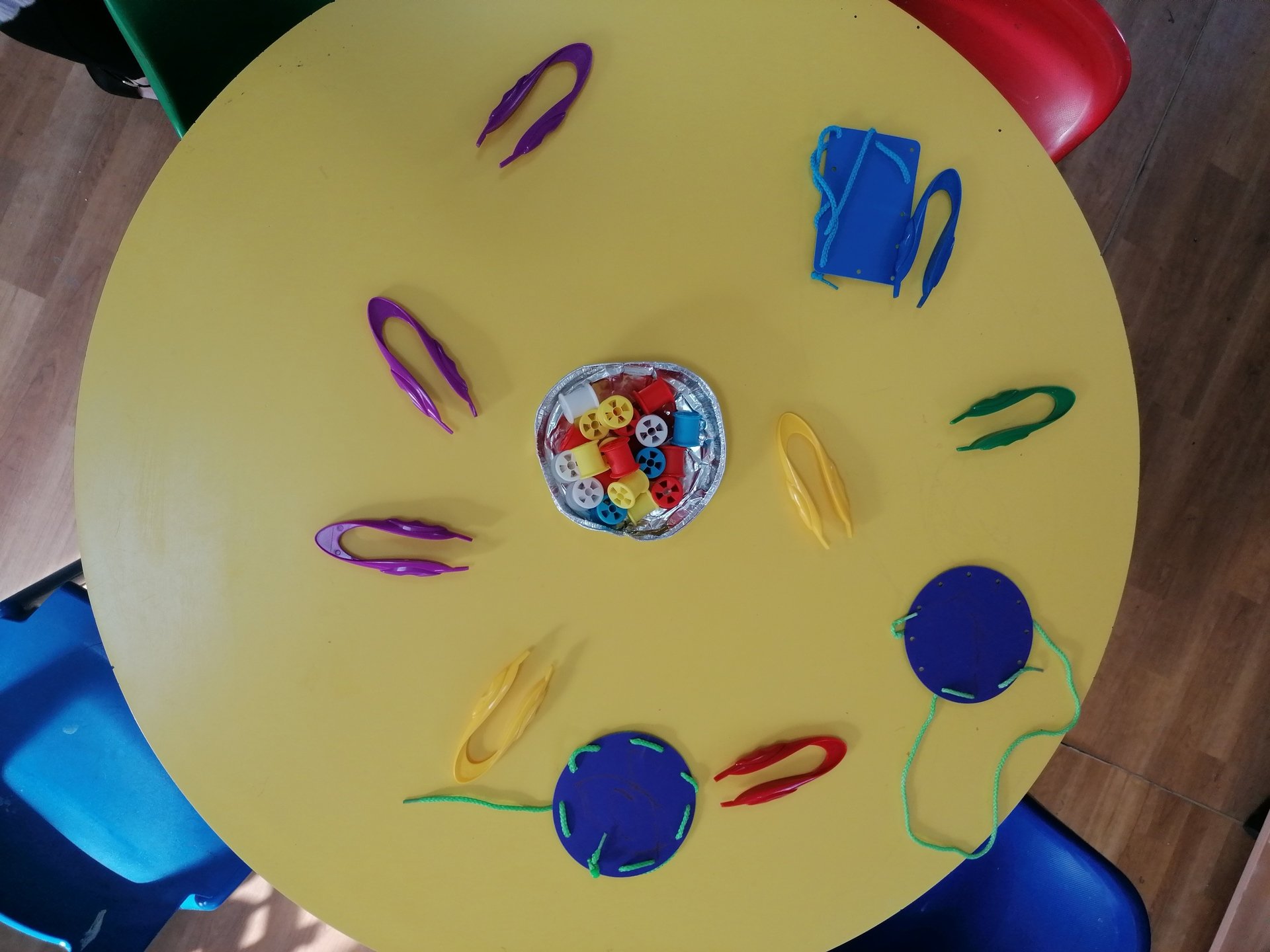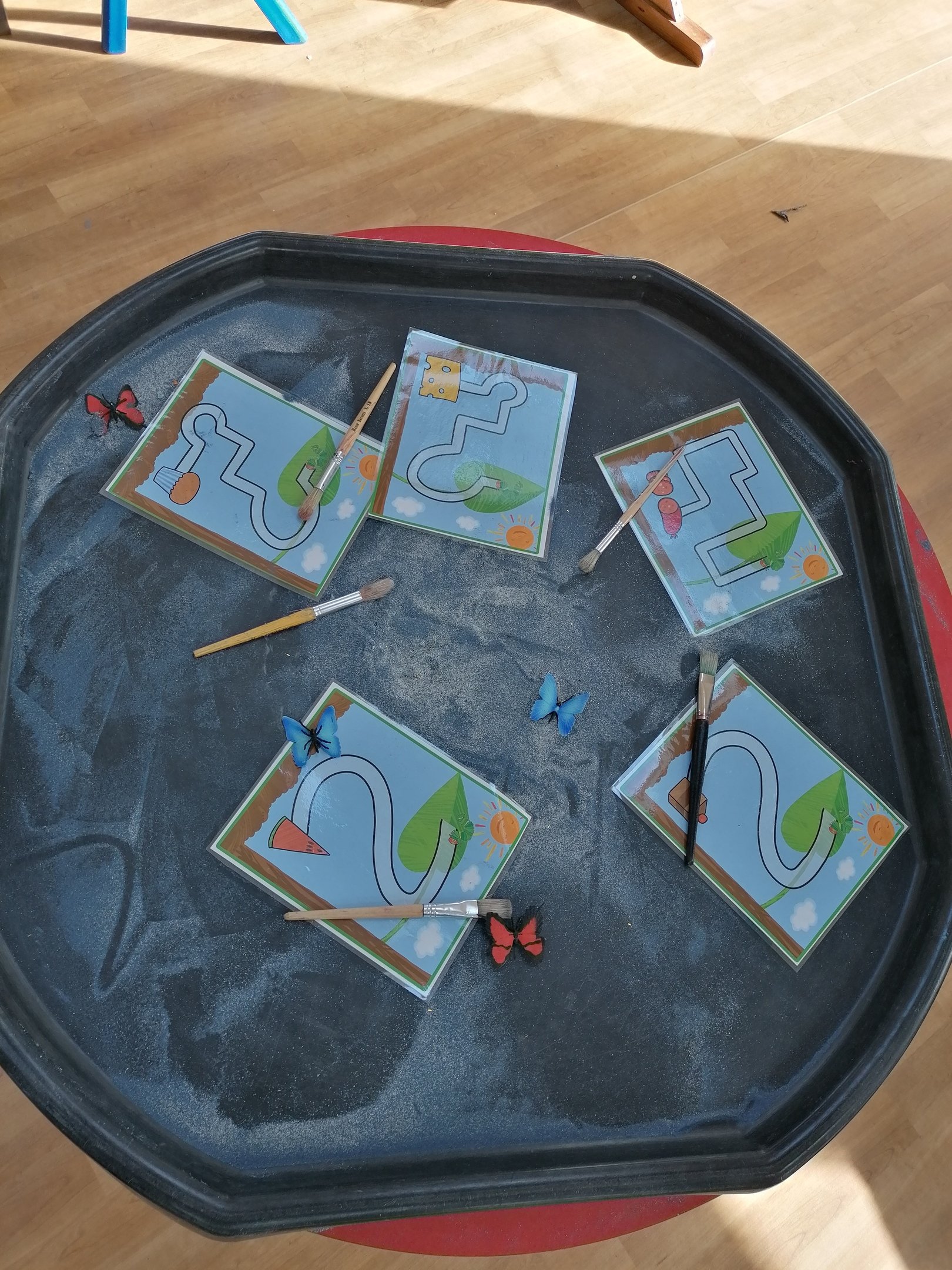 Finally, they have been developing their mathematical skills by developing their counting skills-matching the numeral to the amount using one to one correspondance.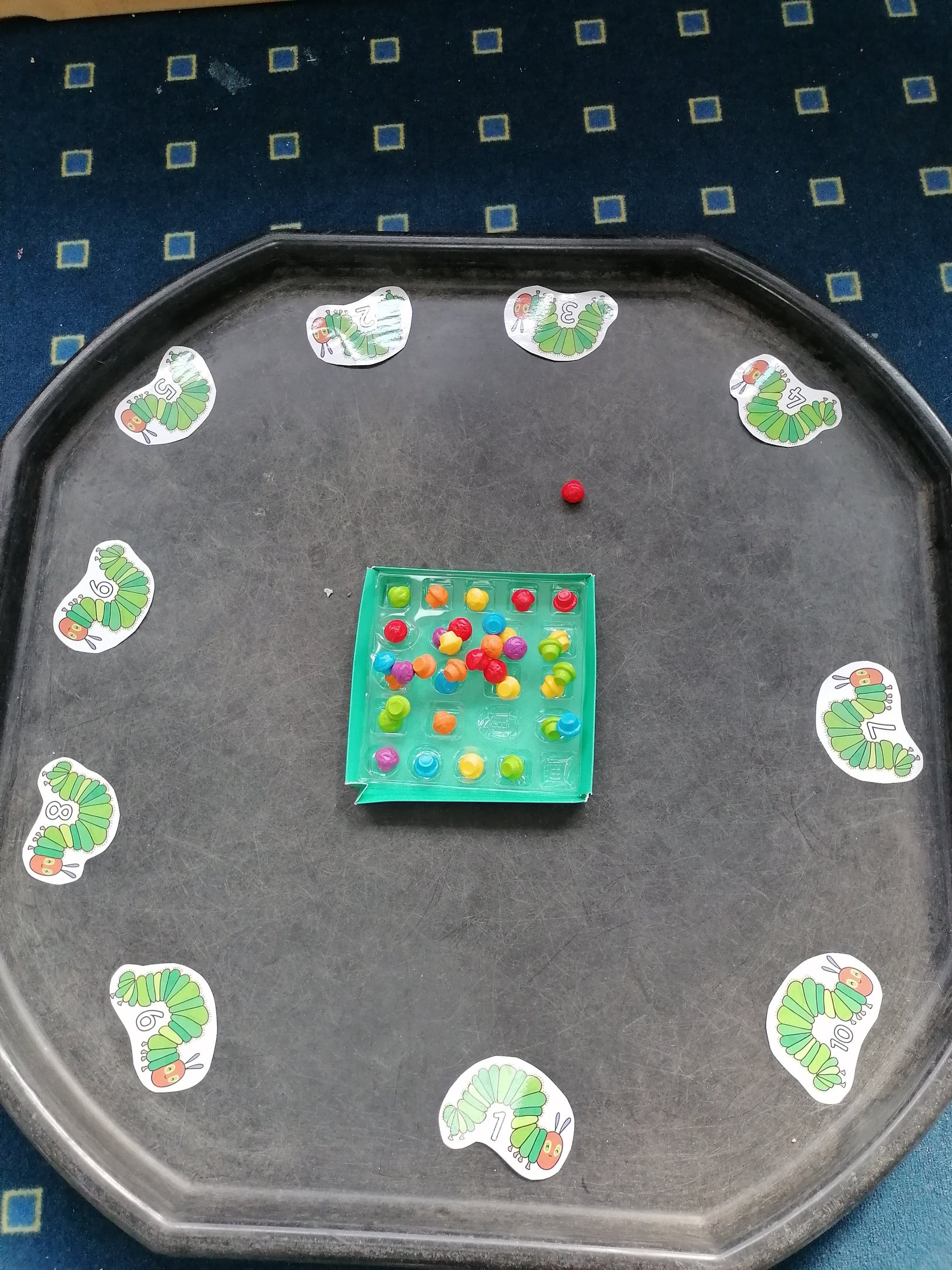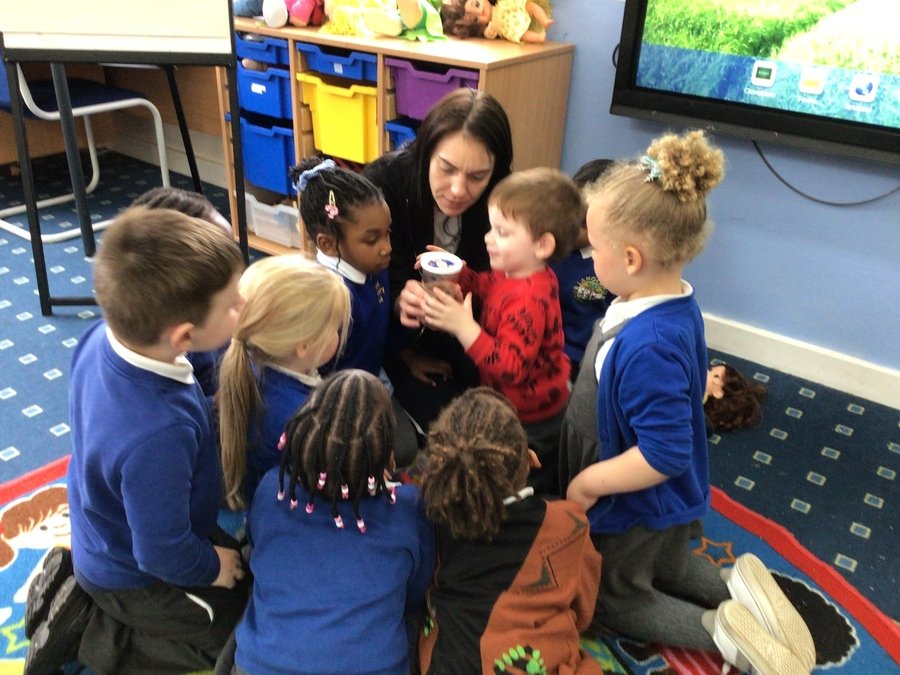 This week, we have welcomed some real caterpillars into our class. The children have loved engaging in conversations about what they can see and are eager to see the caterpillars each day.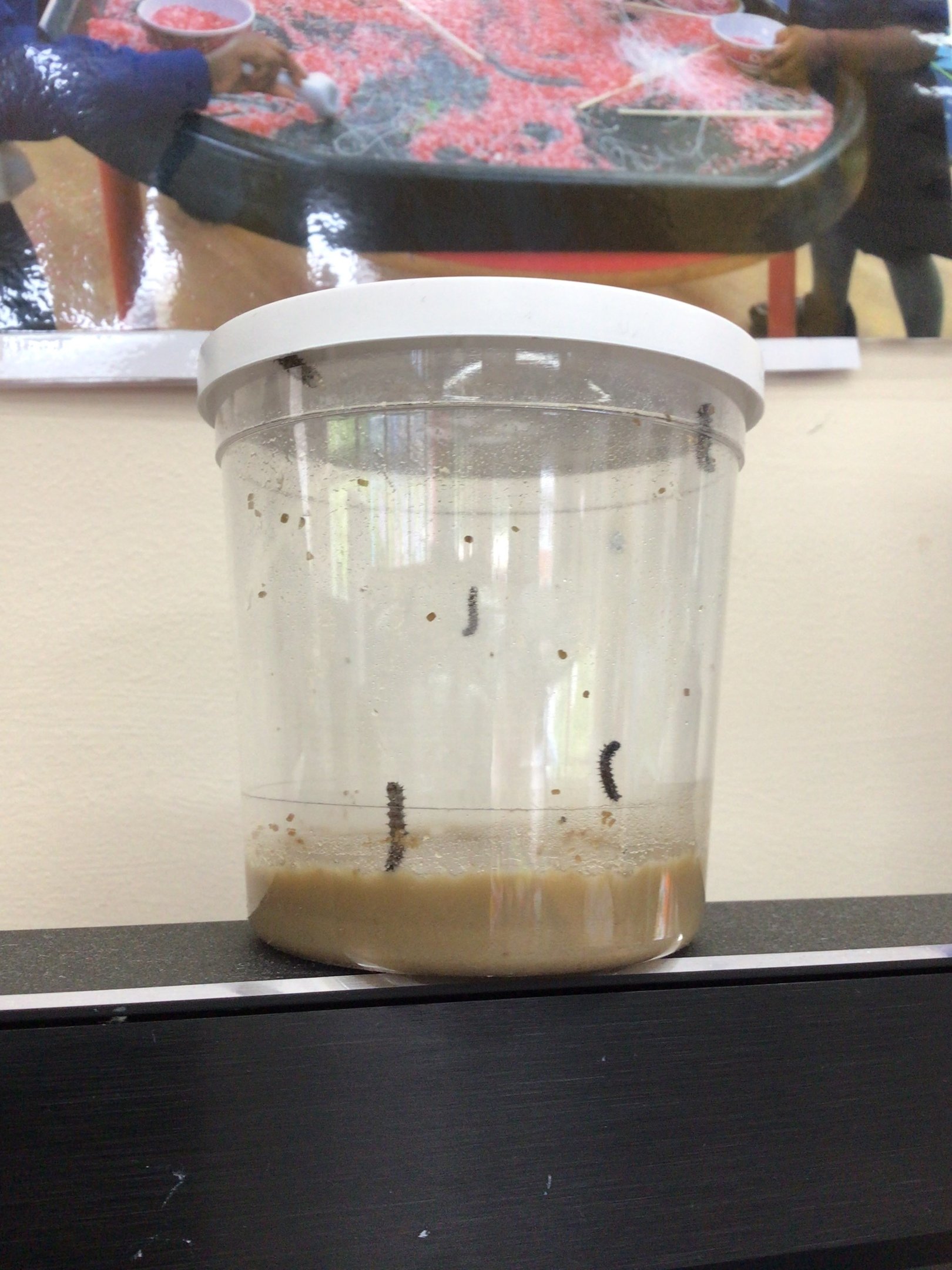 The children have loved the warmer weather and enjoyed some outdoor play and developing their gross motor skills in the cars and on the scooters.
This week, Berry class have continued to learn their text "The Very Hungry Caterpillar". They have enjoyed some art sessions where they have used junk box modelling to create their own caterpillars. How fabulous do they look!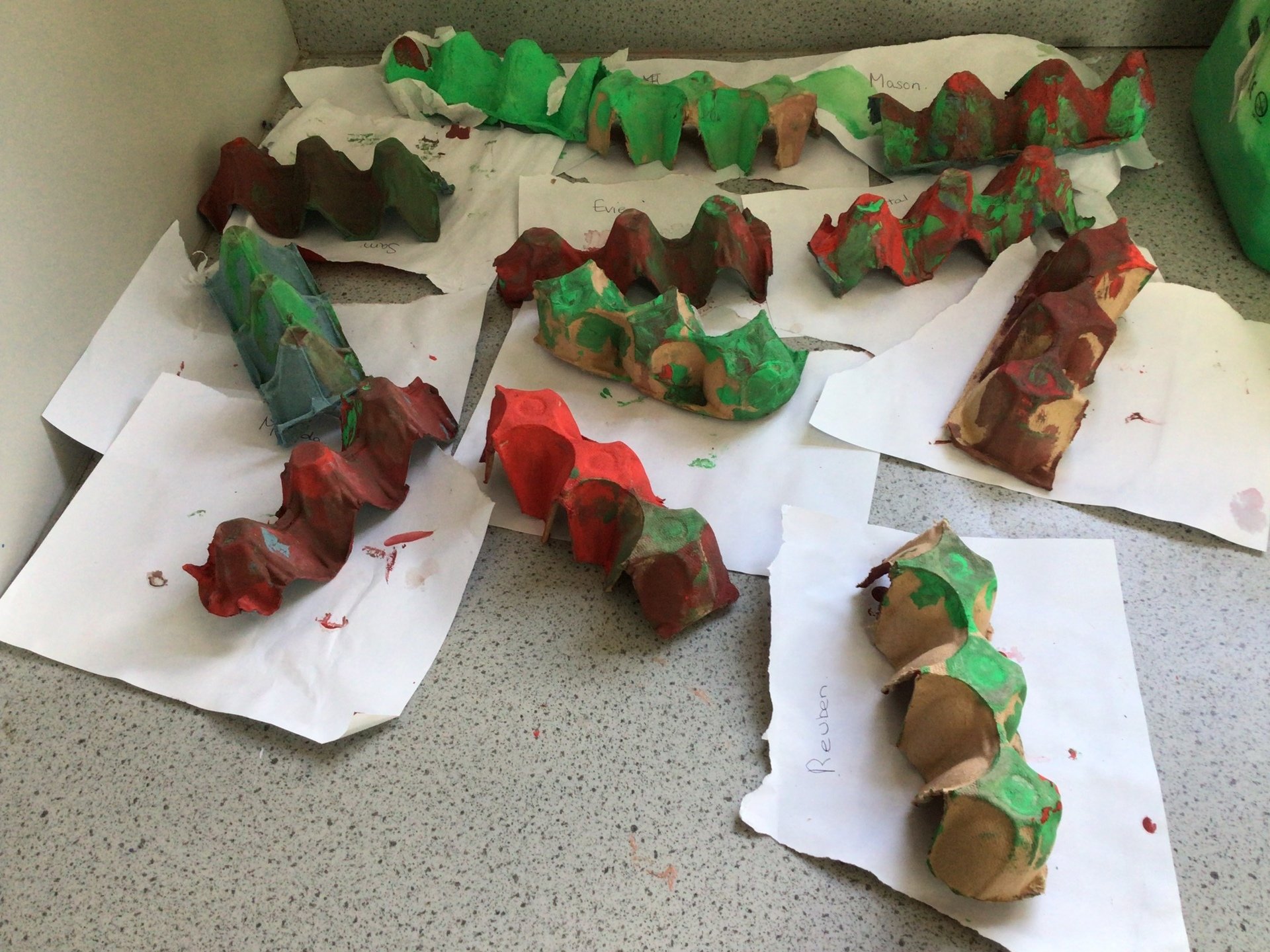 We have also worked on our chanting numbers and have counted coloured spots as we jump on them.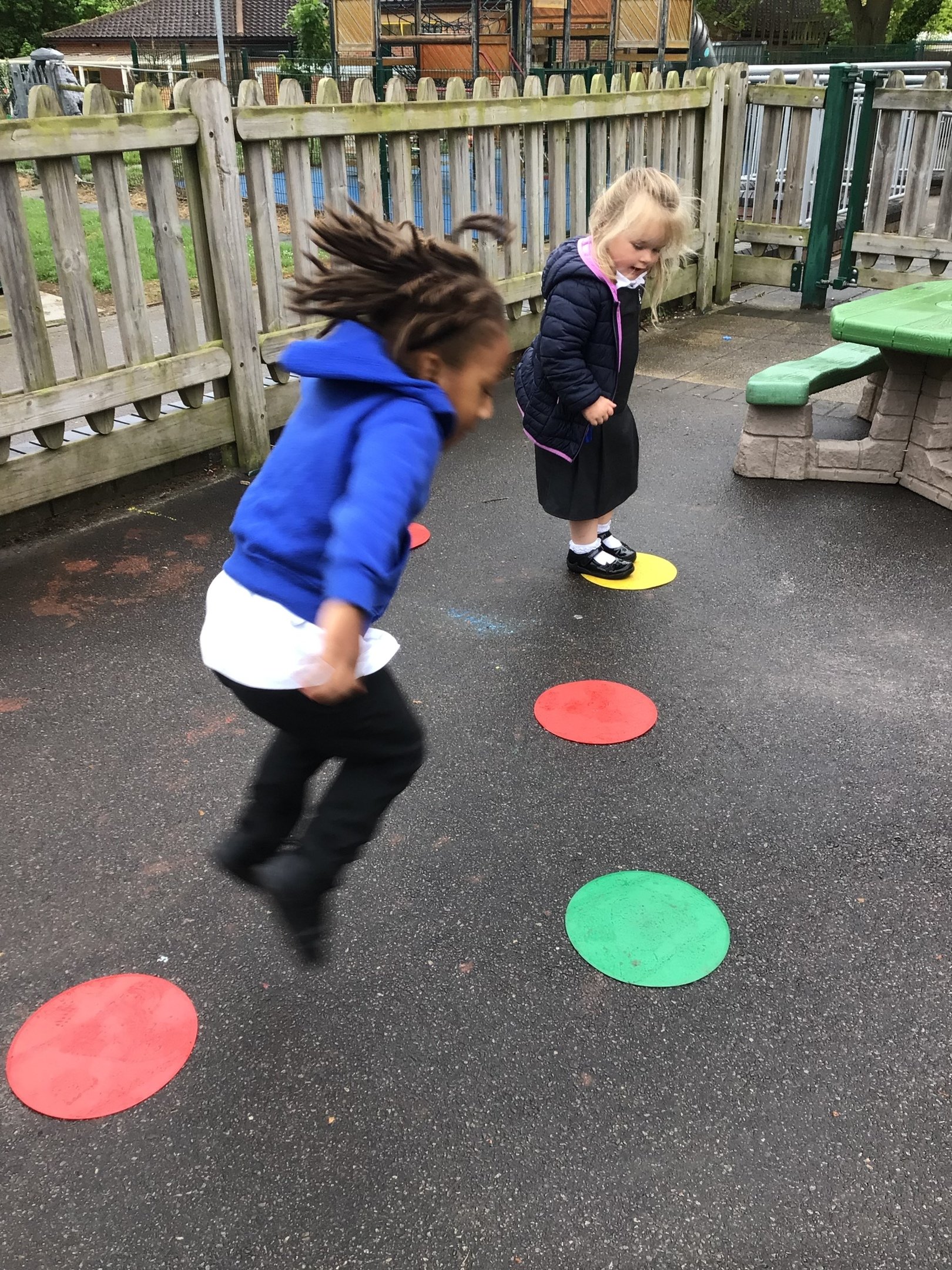 Caterpillar Update!
All 5 caterpillars have turned into chrysalis'. Mrs Clark had to glue a couple to their special pot lid because they cant turn into butterflies otherwise! They only went into the net on Tuesday and by Wednesday morning one of them had turned into a butterfly!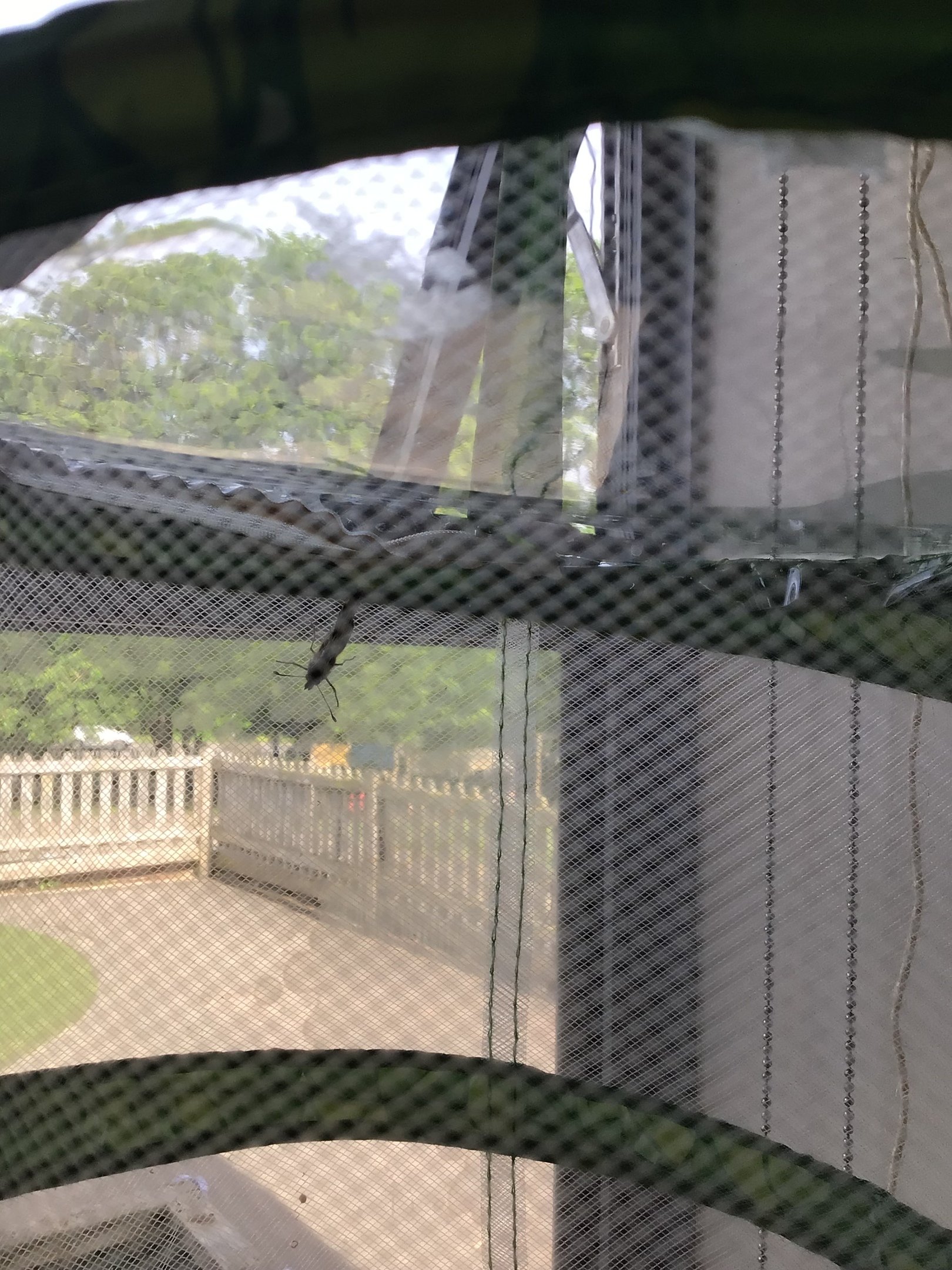 We have loved exploring water play this week pouring, emptying, filling and using the funnels.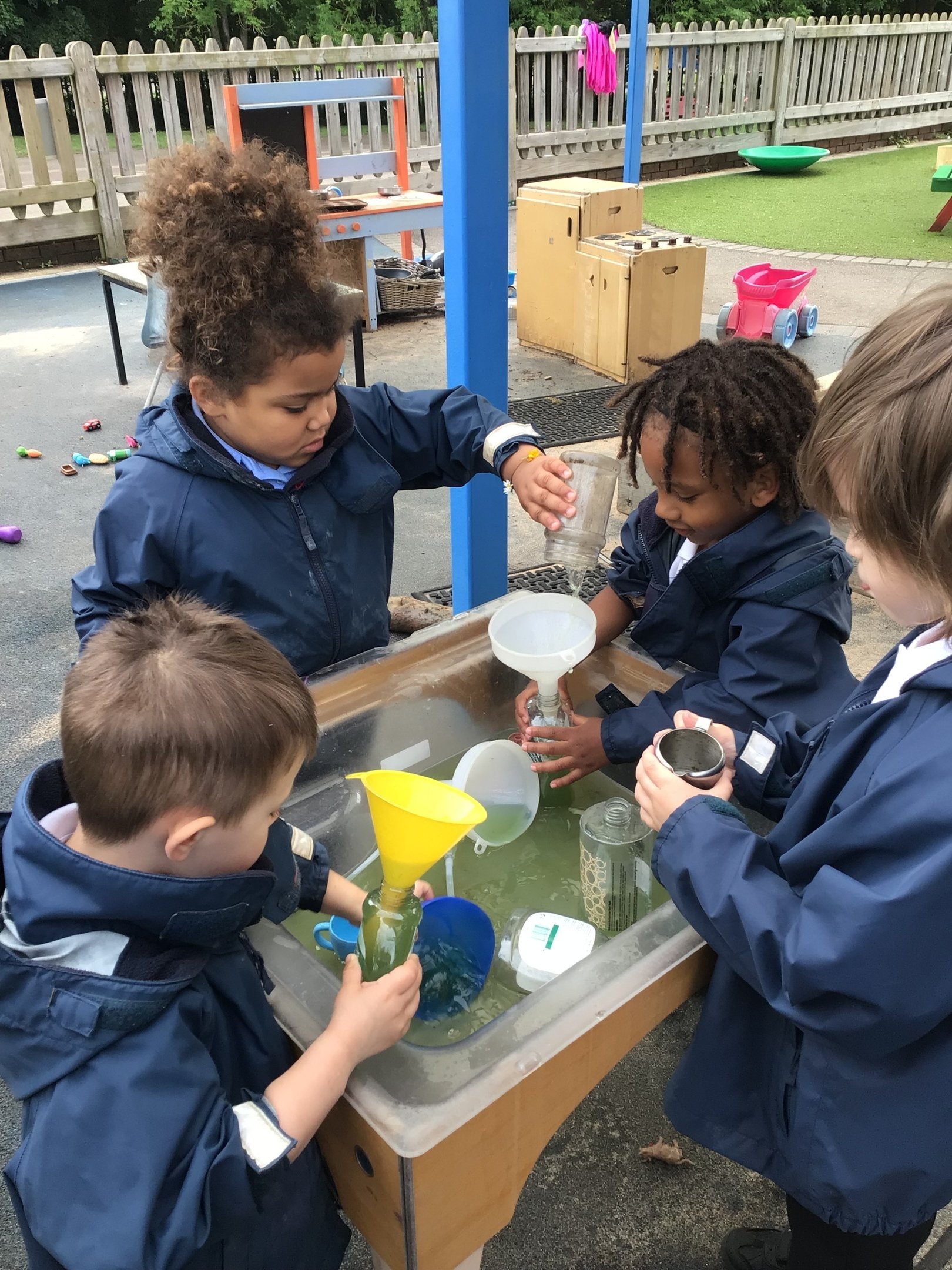 We have also enjoyed counting objects and matching to numerals. We were encouraged to use the maths station too.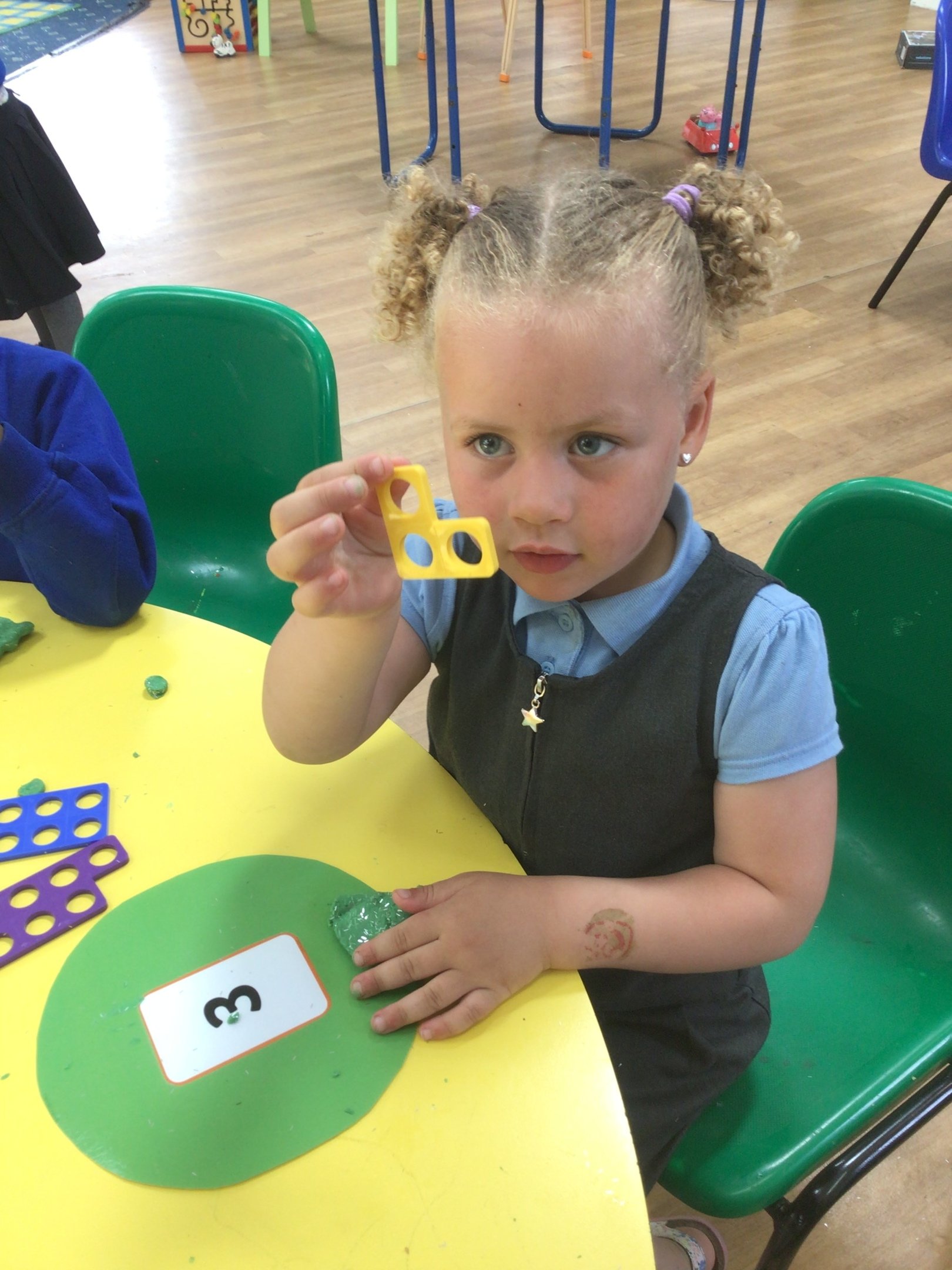 This week we have been learning our TfW text "The Billy Goats Gruff" and we have really been enjoying retelling this story in our own time in our reading cave.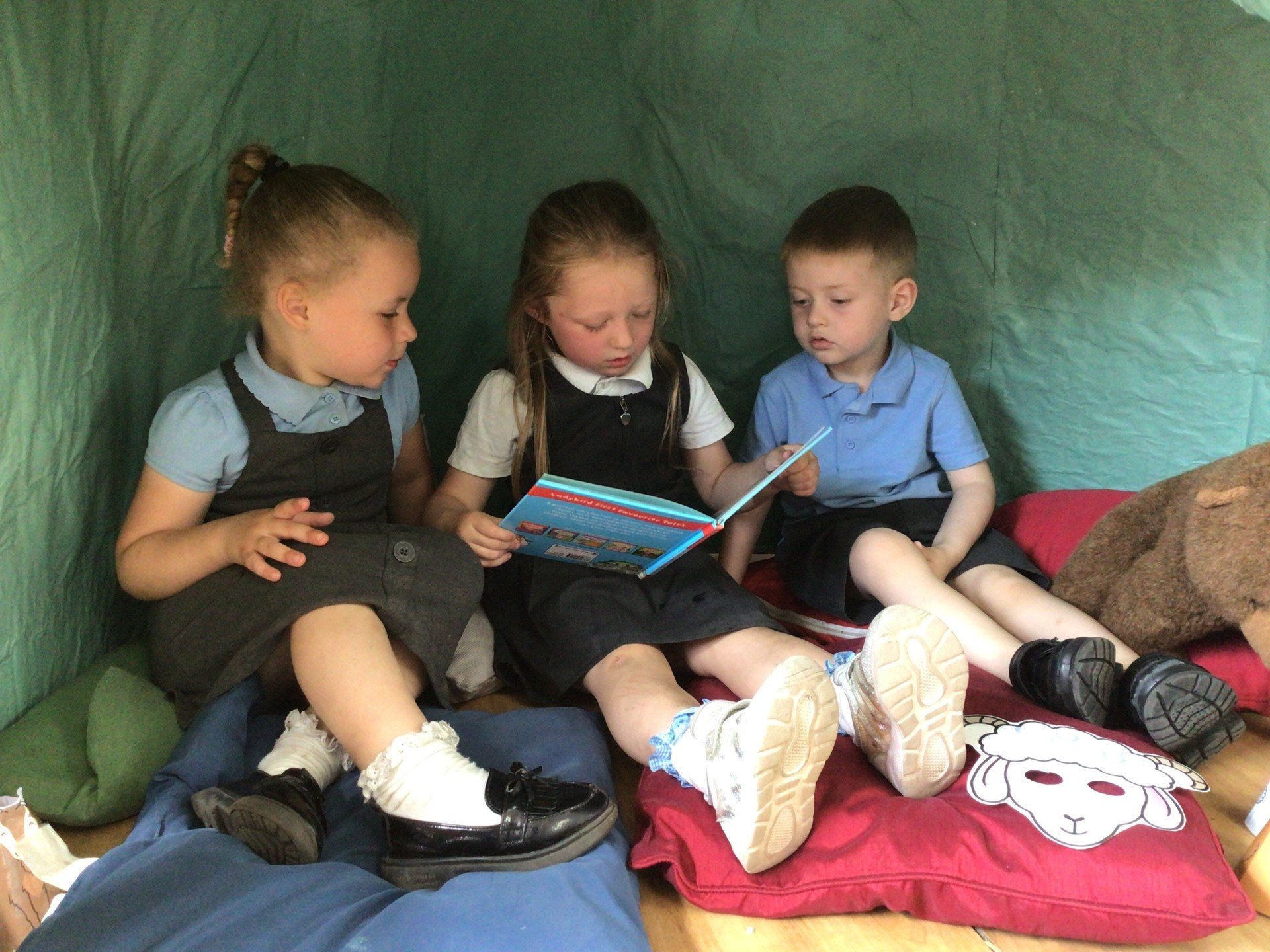 It would be great if you could see whether your child can retell the story at home to you? If they can record it and upload it onto Tapestry.
The children have also been retelling the story using small world billy goats and bridges.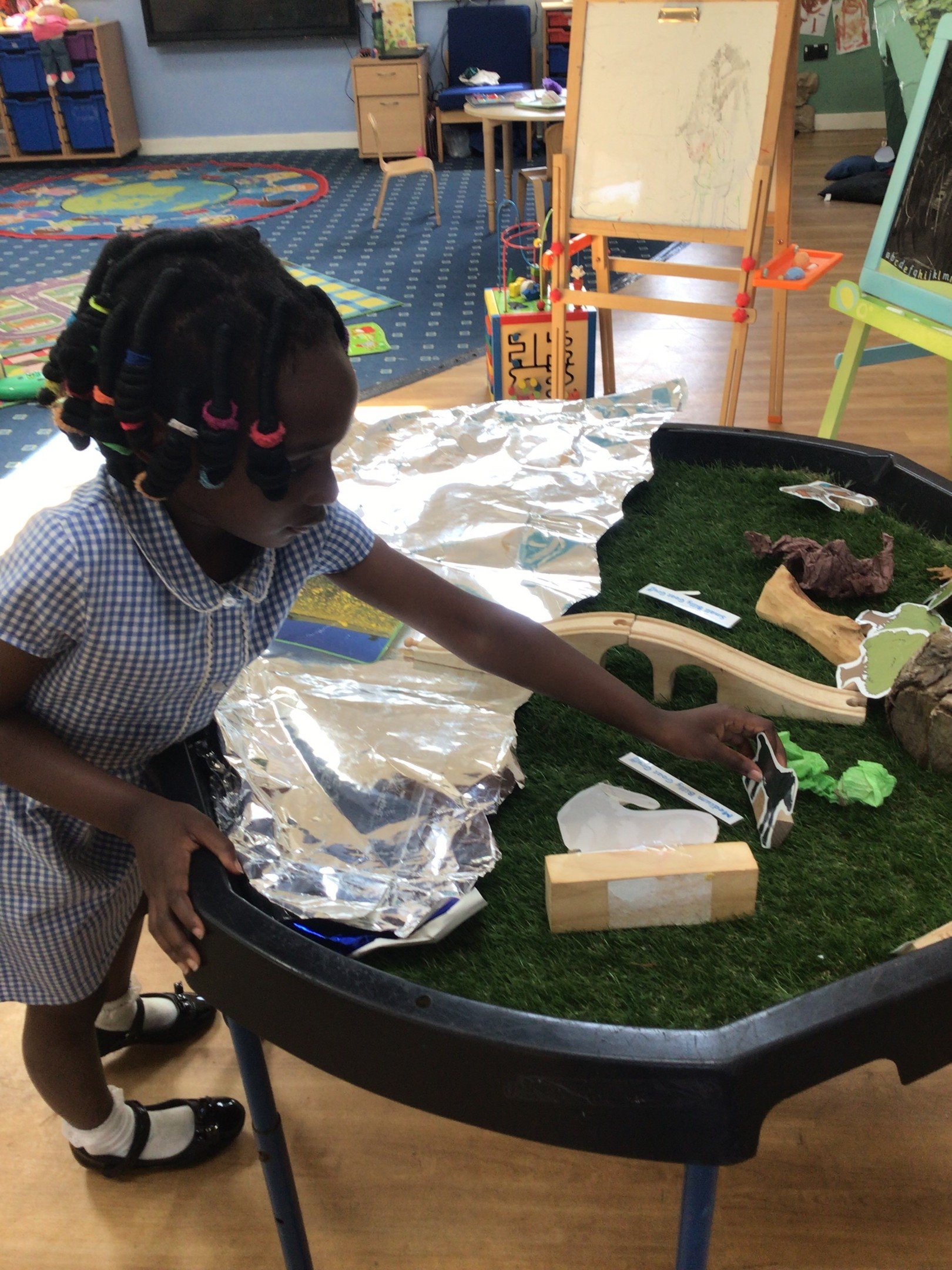 We have even tried to write speech bubbles that the characters might be saying to each other. This one says "Please let me go on the bridge!"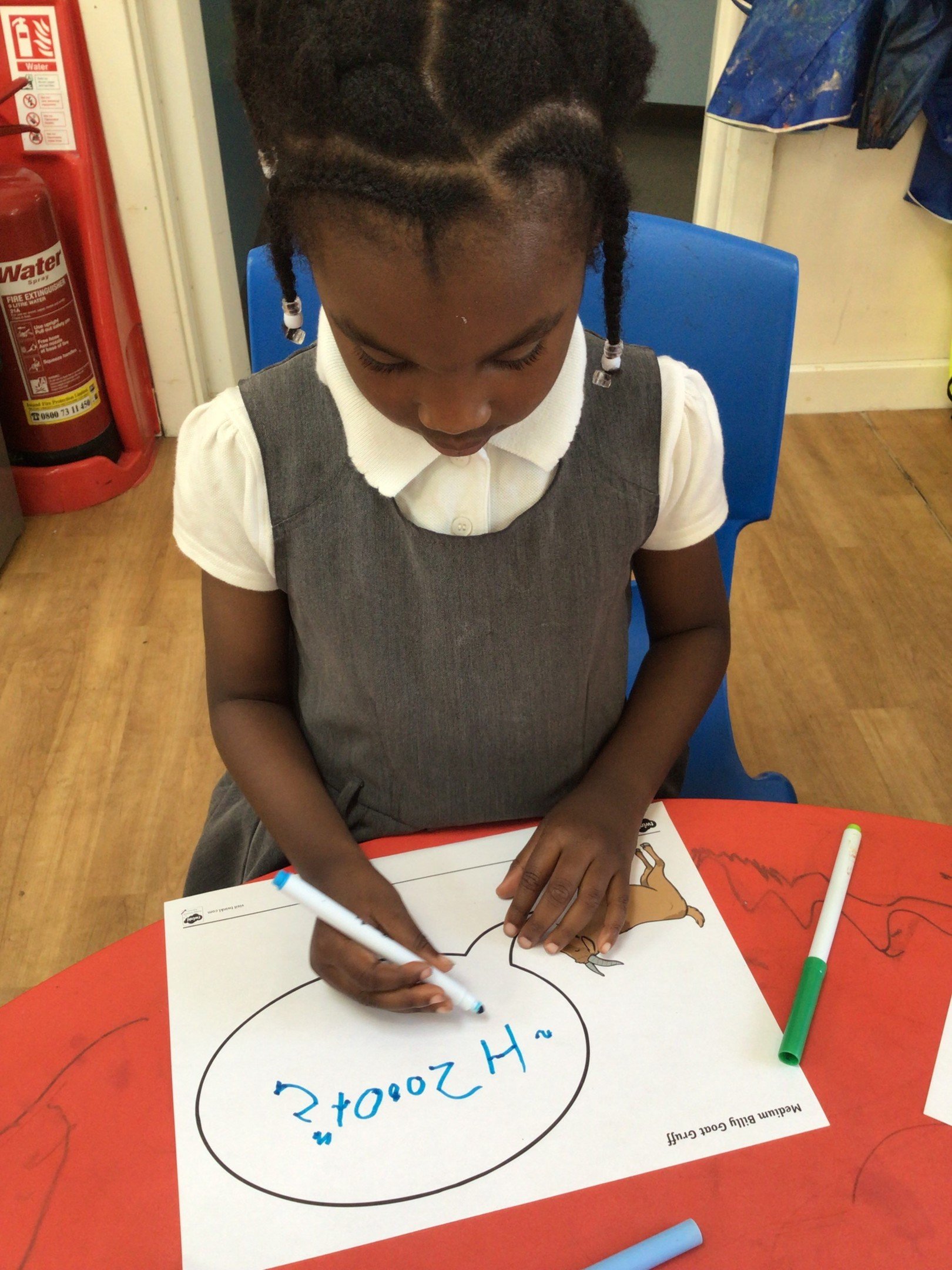 We have had a super first week back. Our Hook Day for our Talk for Writing text-'The Sleepy Bumblee' was all about pollination! The children had to pretend to be bees and collect pollen from flower to flower. Our experiment used Wotsits and bee paper puppets to explore how the pollen from each flower spread.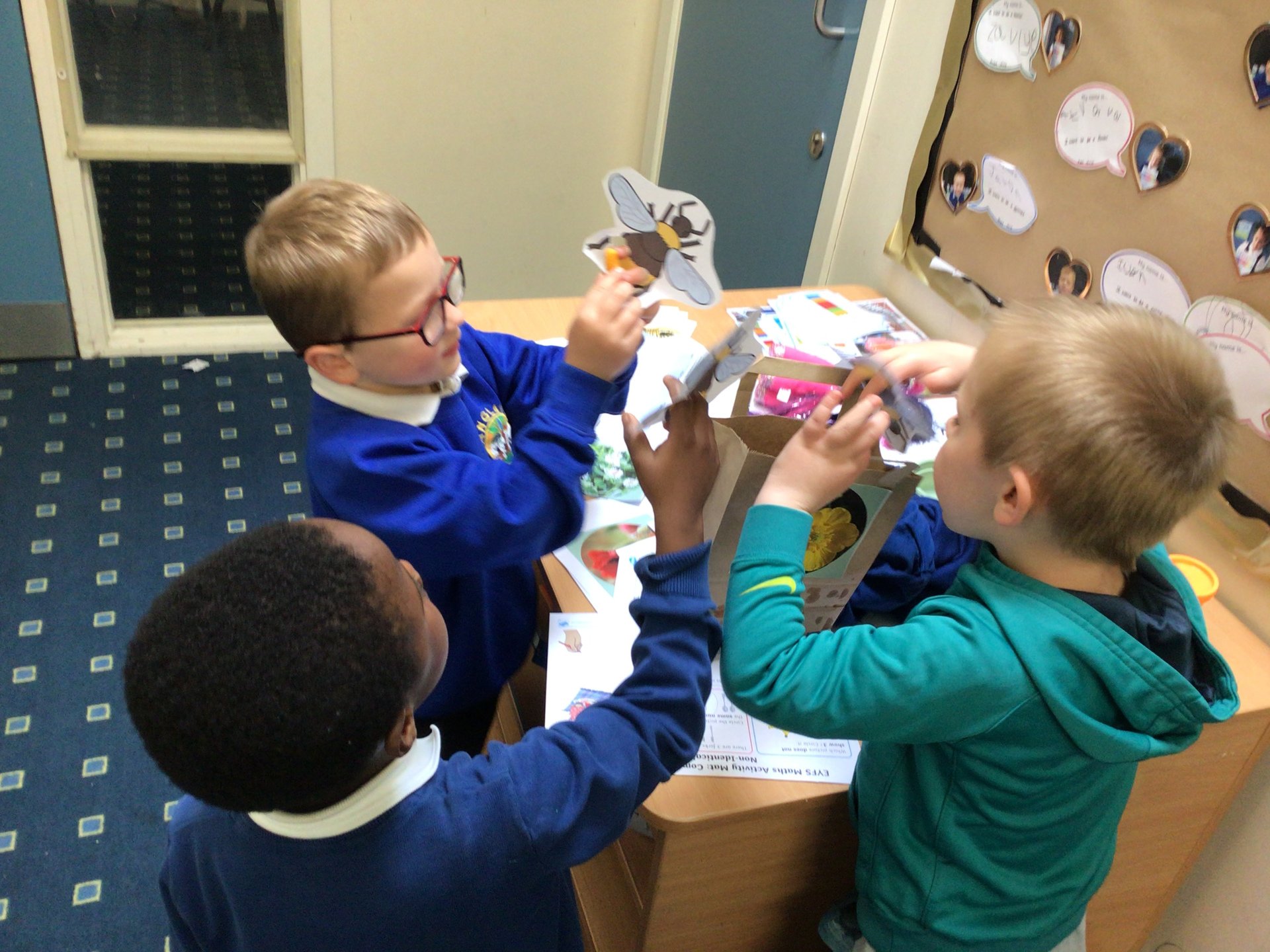 We have also created some lovely art work of beehives and practised our fine motor skills with drawing and cutting.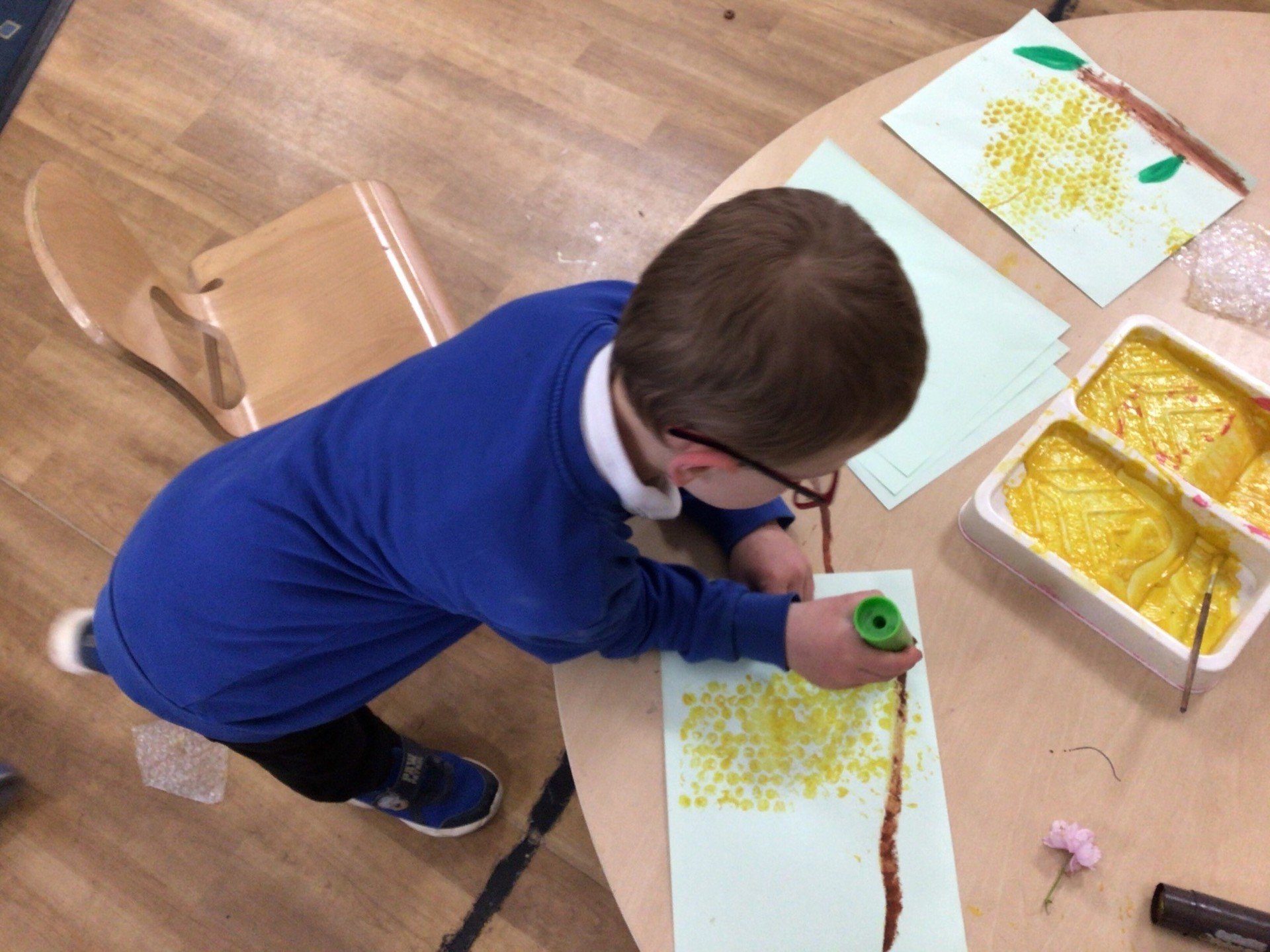 In Power Maths, we have also explored simple patterns and how a pattern has to 'repeat'.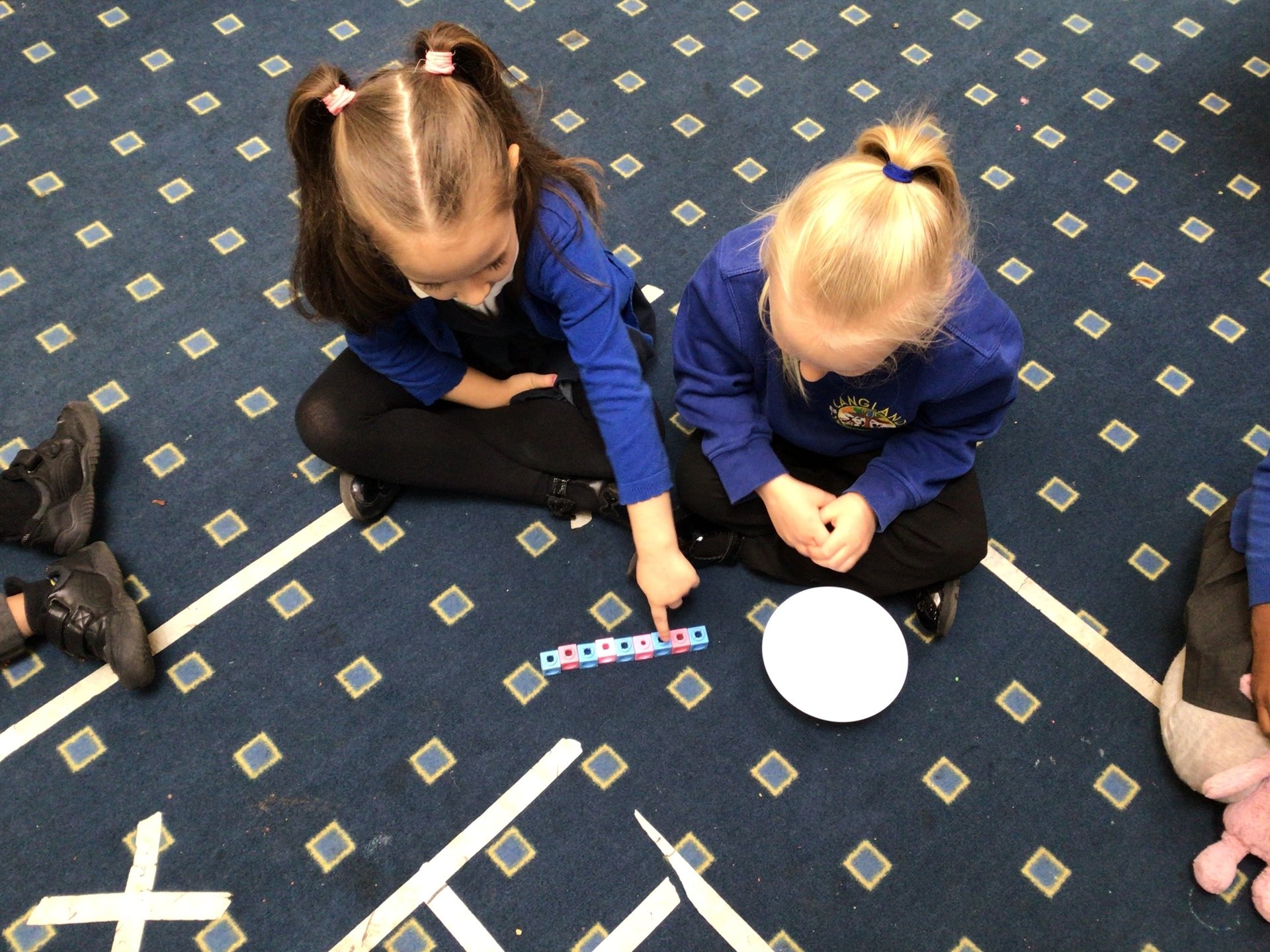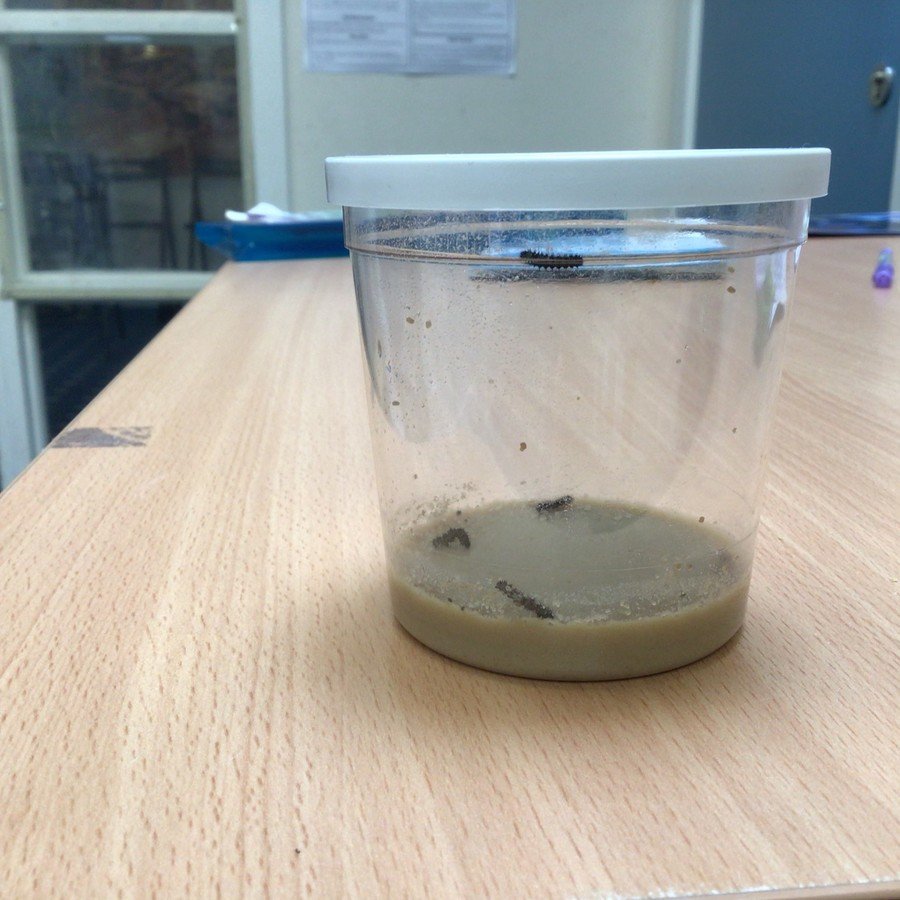 We have had some special visitors arrive this week...Caterpillars. We are so excited to see how they have started to grow and change already. We want to find out when they turn into butterflies, how many feet they have and how and why do they spin webs.
In Power Maths, we have continued exploring patterns but they are more complex patterns.
We have also engaged in some writing about bees and shared some facts that we know about them. Our writing is improving week by week and one of our children did this piece of work independently :)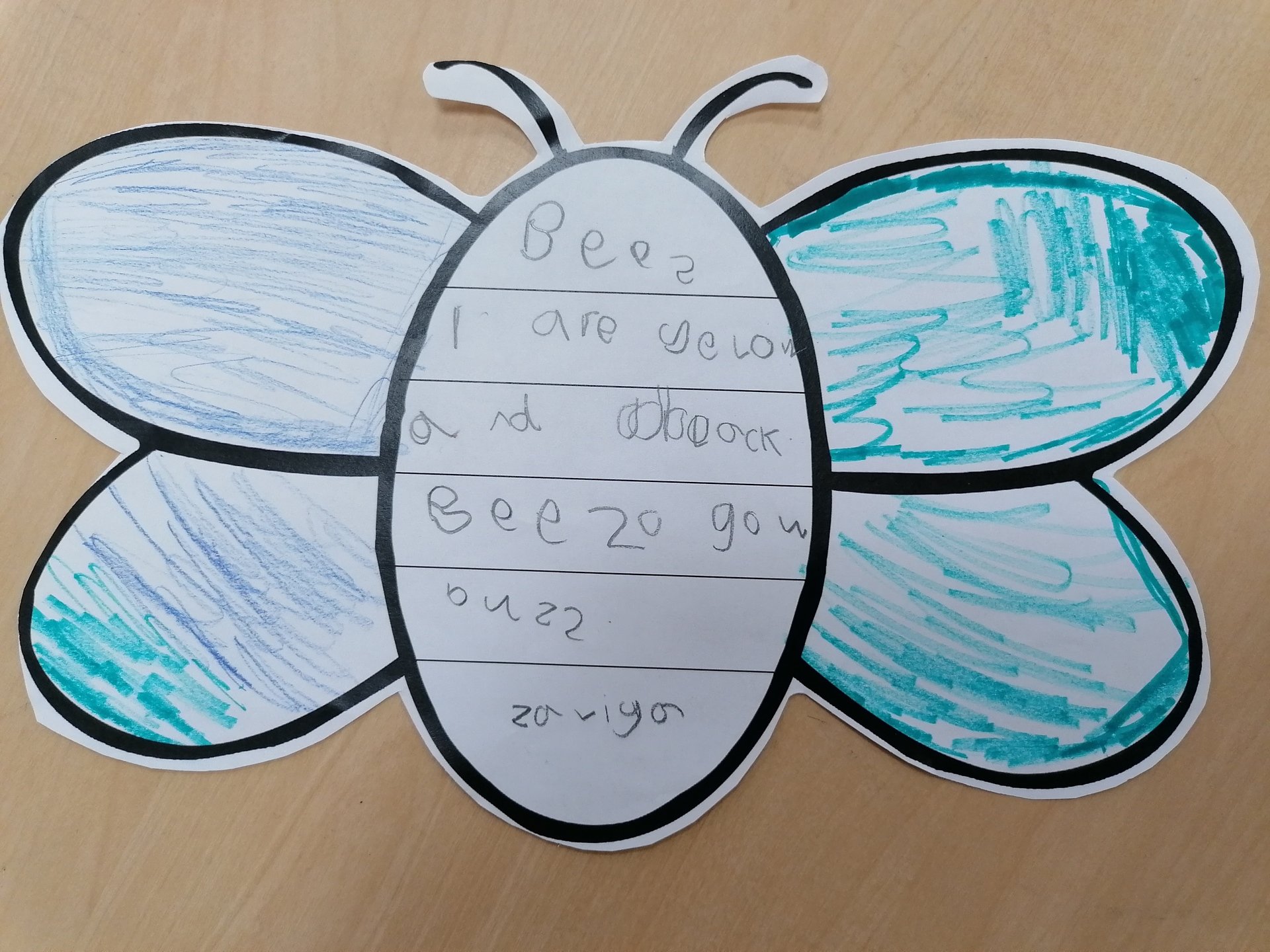 What a busy week it's been!
We have loved observing and discussing the caterpillars and how they are growing. As they have got bigger, we have seen just how much detail they have.
In our Power Maths sessions, we have been learning about counting on. This has definitely been the trickiest topic so far but we found joining in with some board games and dice has helped us to get better at it! Maybe you could play some board games together at home over the weekend?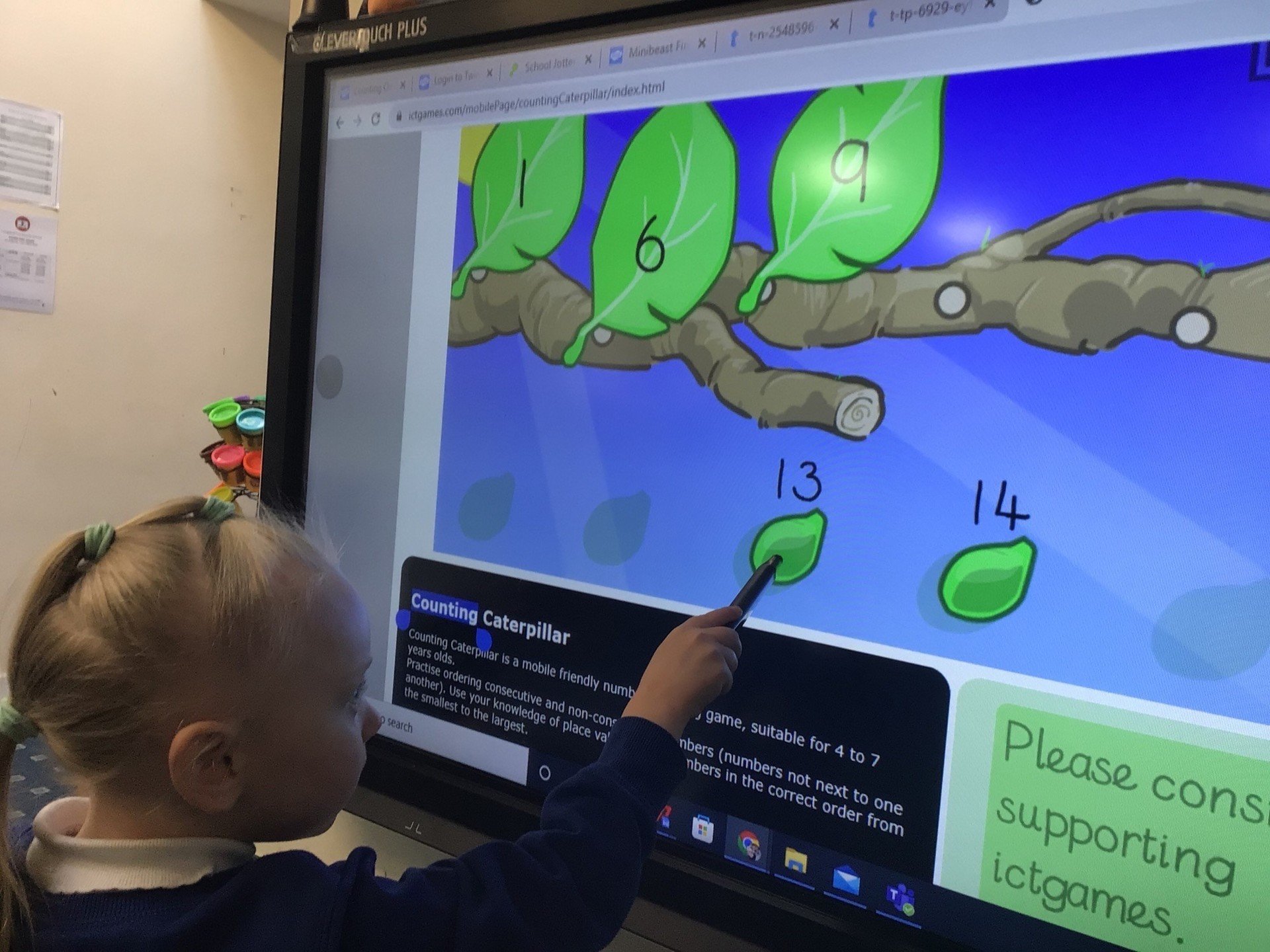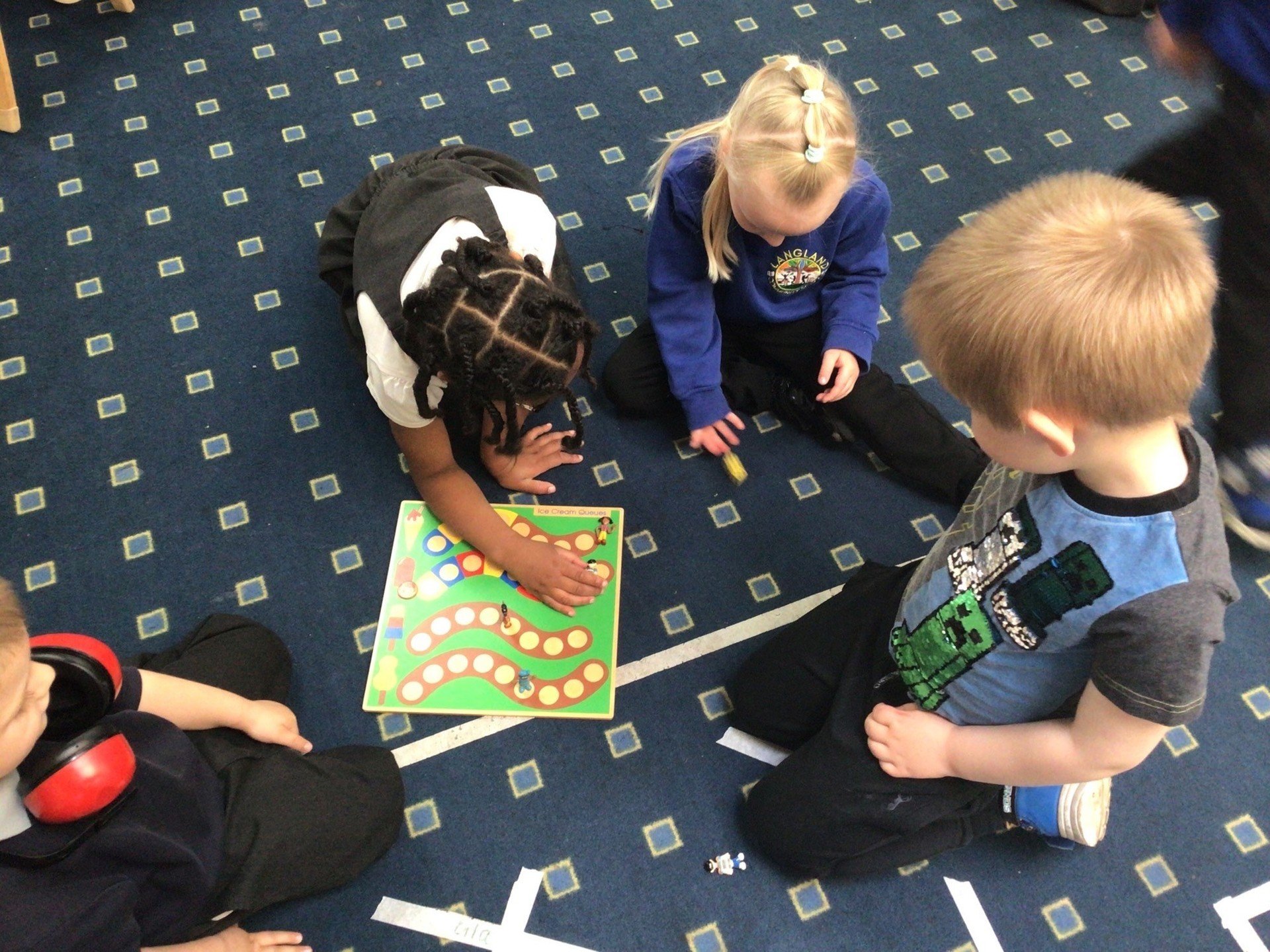 We also created some beautiful artwork, painting caterpillars with our fingertips.
This week, we have started learning all about the Queen in preparation of her Platinum Jubilee. The children have started to talk about money, where she lives, what she looks like and if she is rich or poor!
We had great fun making some crowns.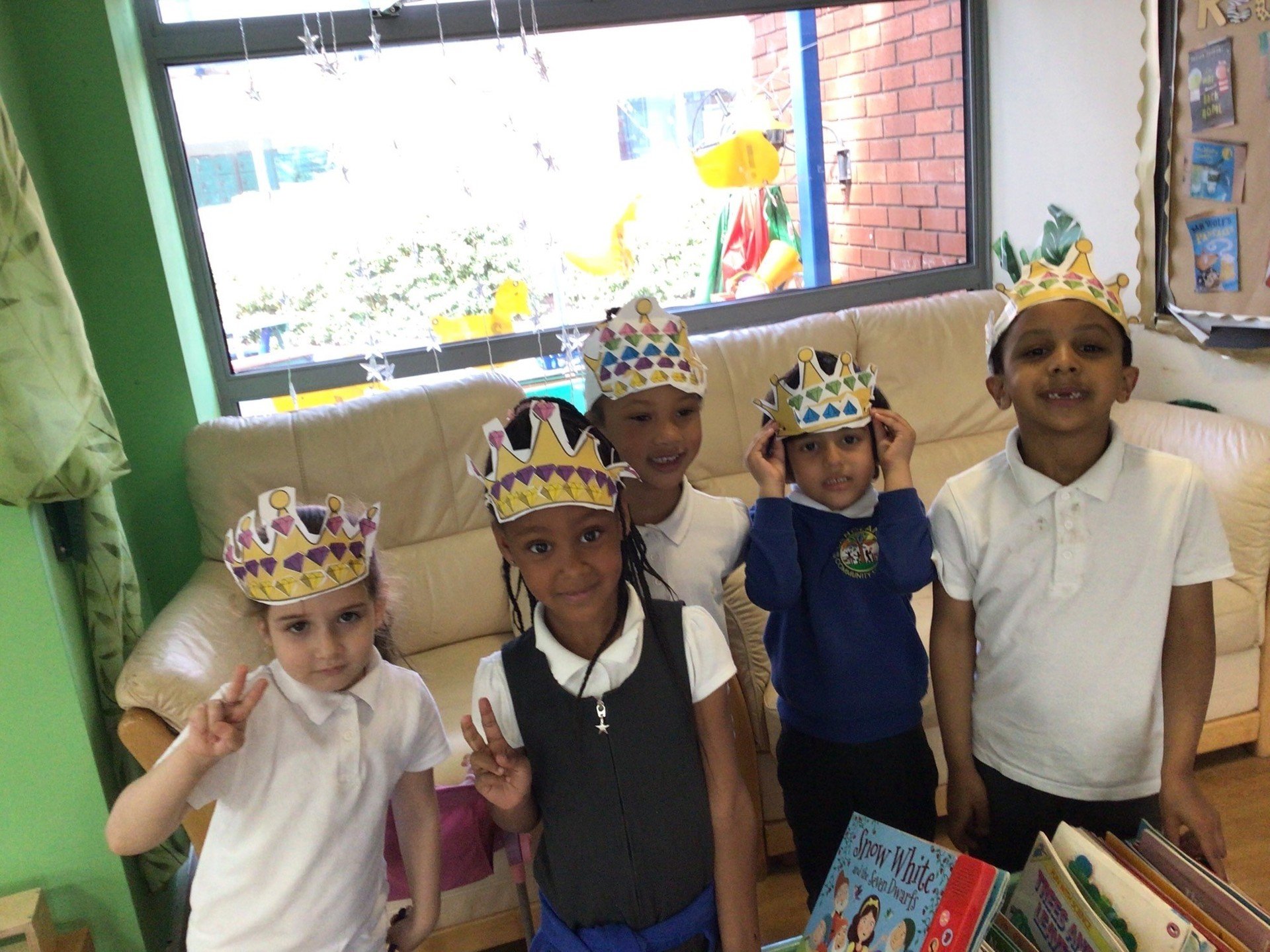 We are really focussing on getting some evidence of what the children can write independently.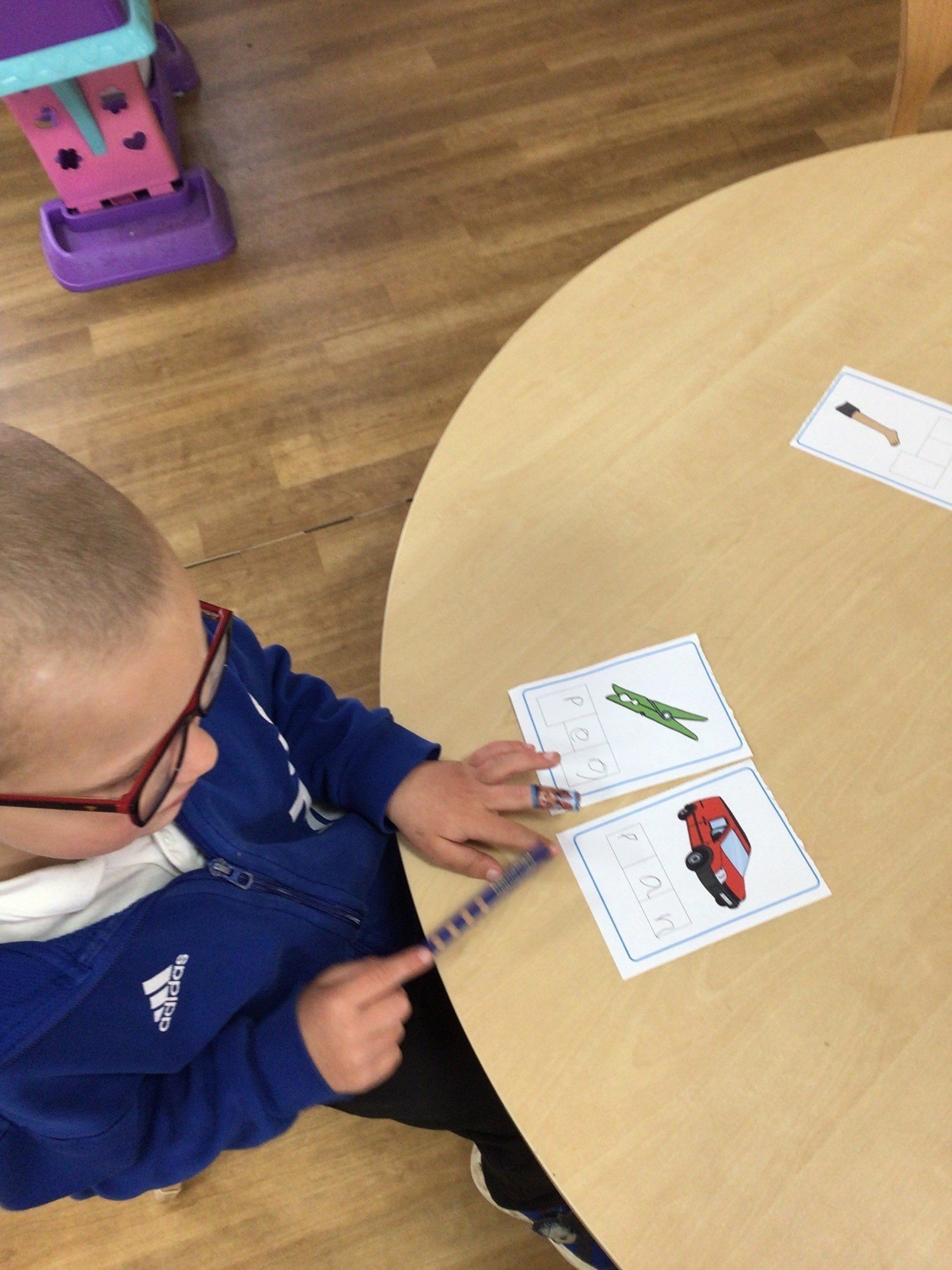 In some of our early work we tried to write CVC words.
Some of the children are trying to write sentences independently too.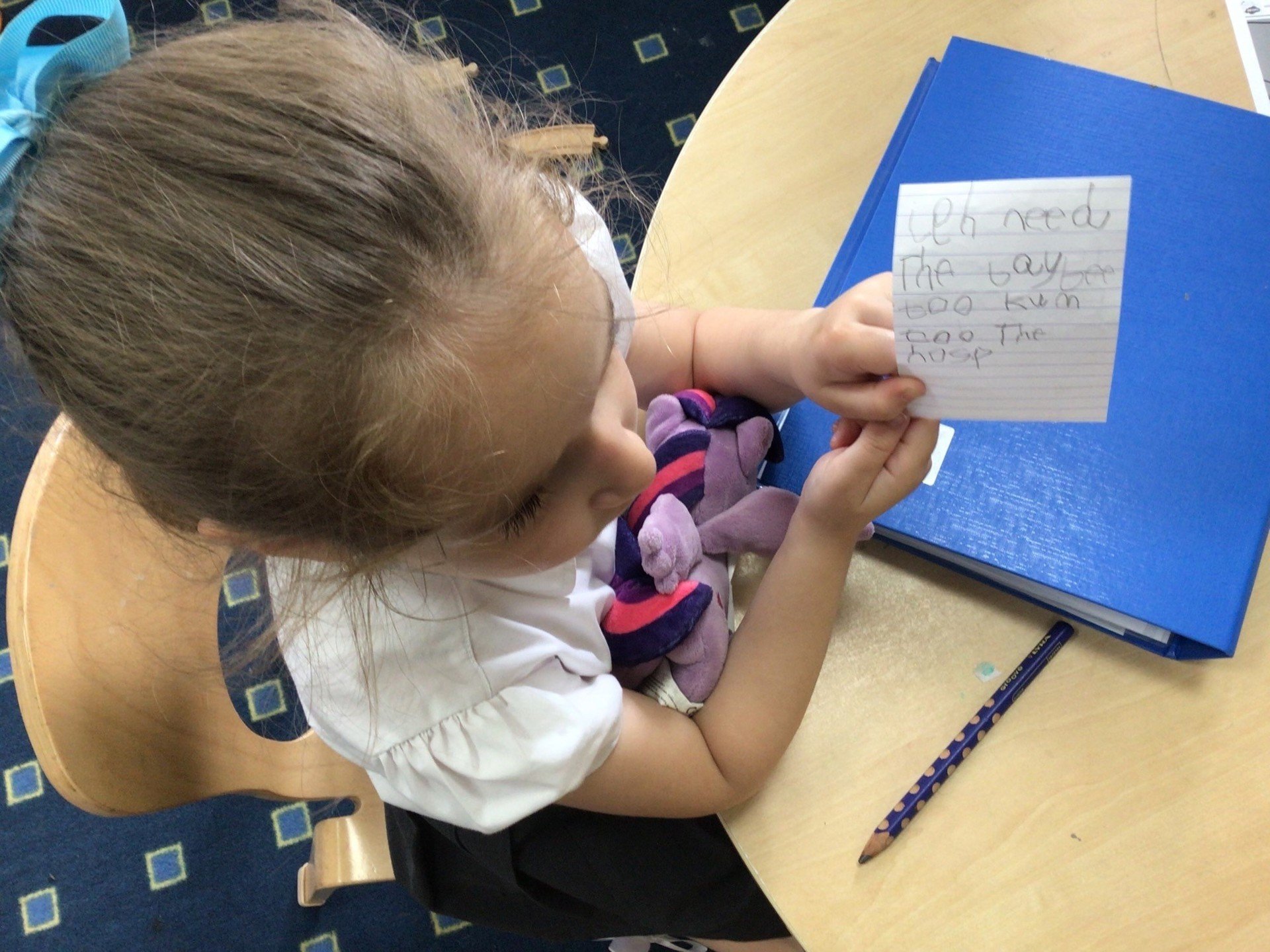 This week, we went on a hunt around the school to find Dora our class puppet who had disappeared without trace. We had to follow the clues to try and find her and used story vocabulary such as next, after that, then, luckily, unfortunately finally.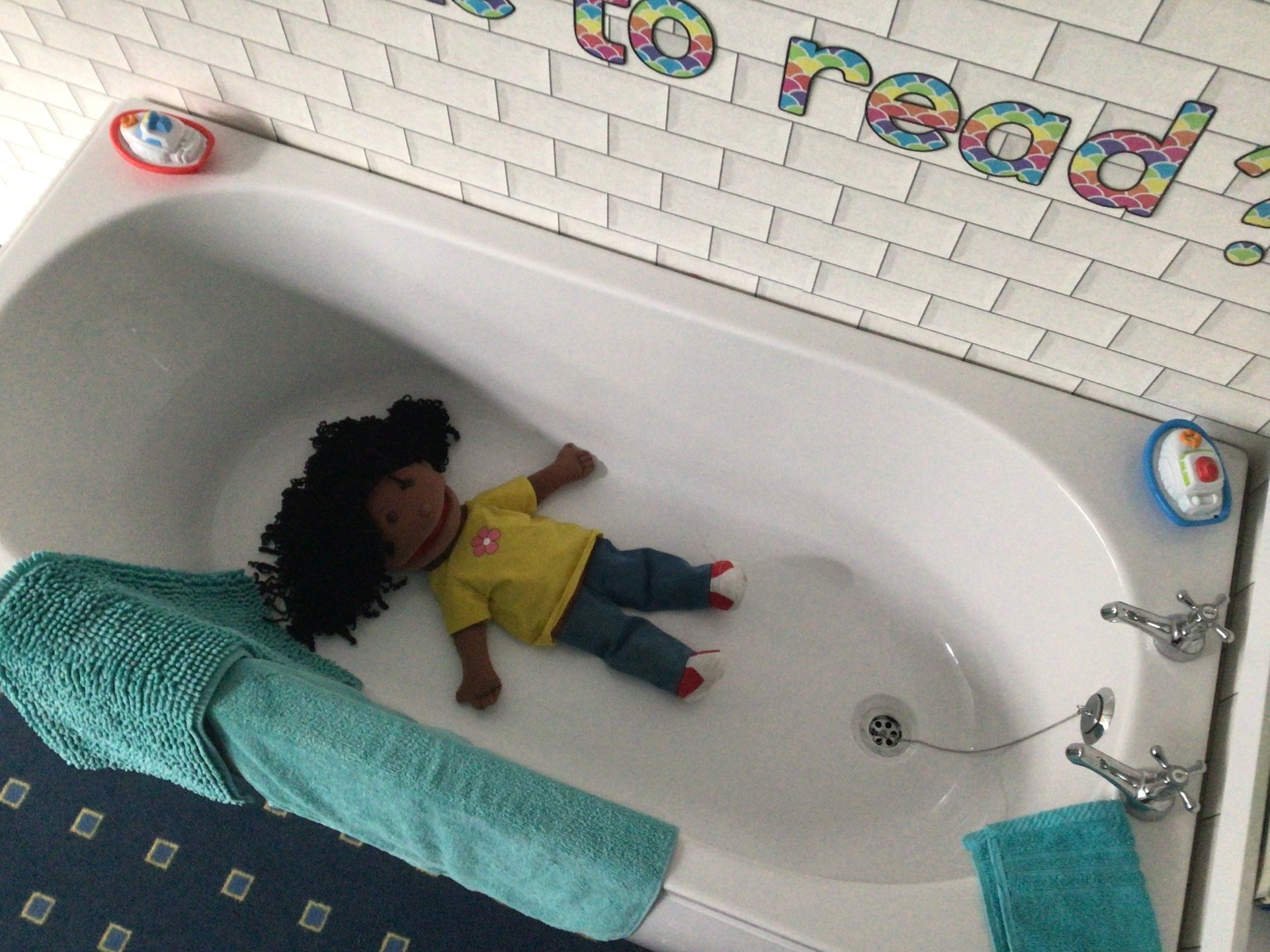 We also designed shields, cut them out and used them in battle.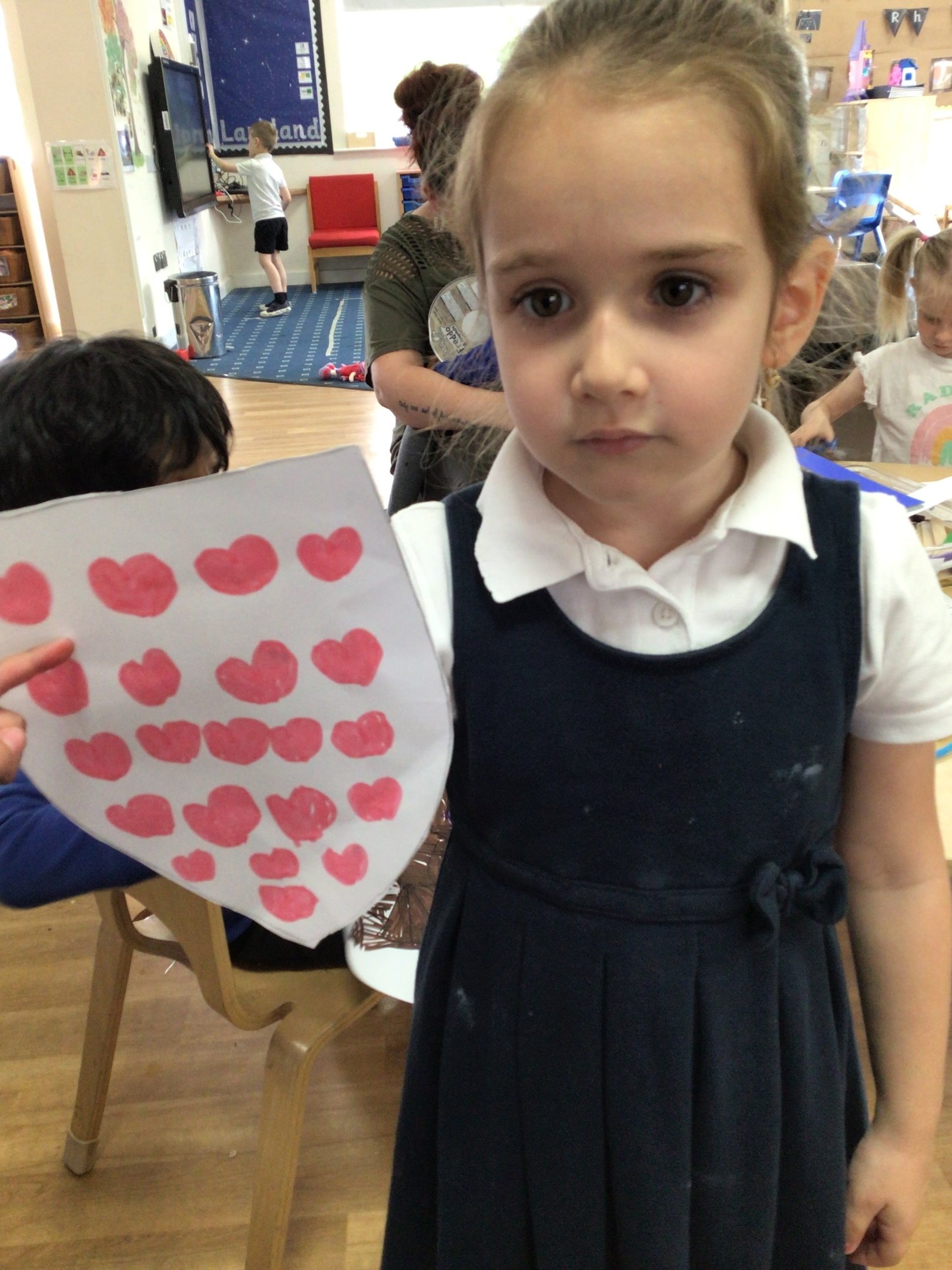 This week, Maple have continued to impress me with their learning and attitudes to learning :)
In Power Maths we have learned about doubles and the children have been demonstrating their understanding really well using fingers and stem sentences.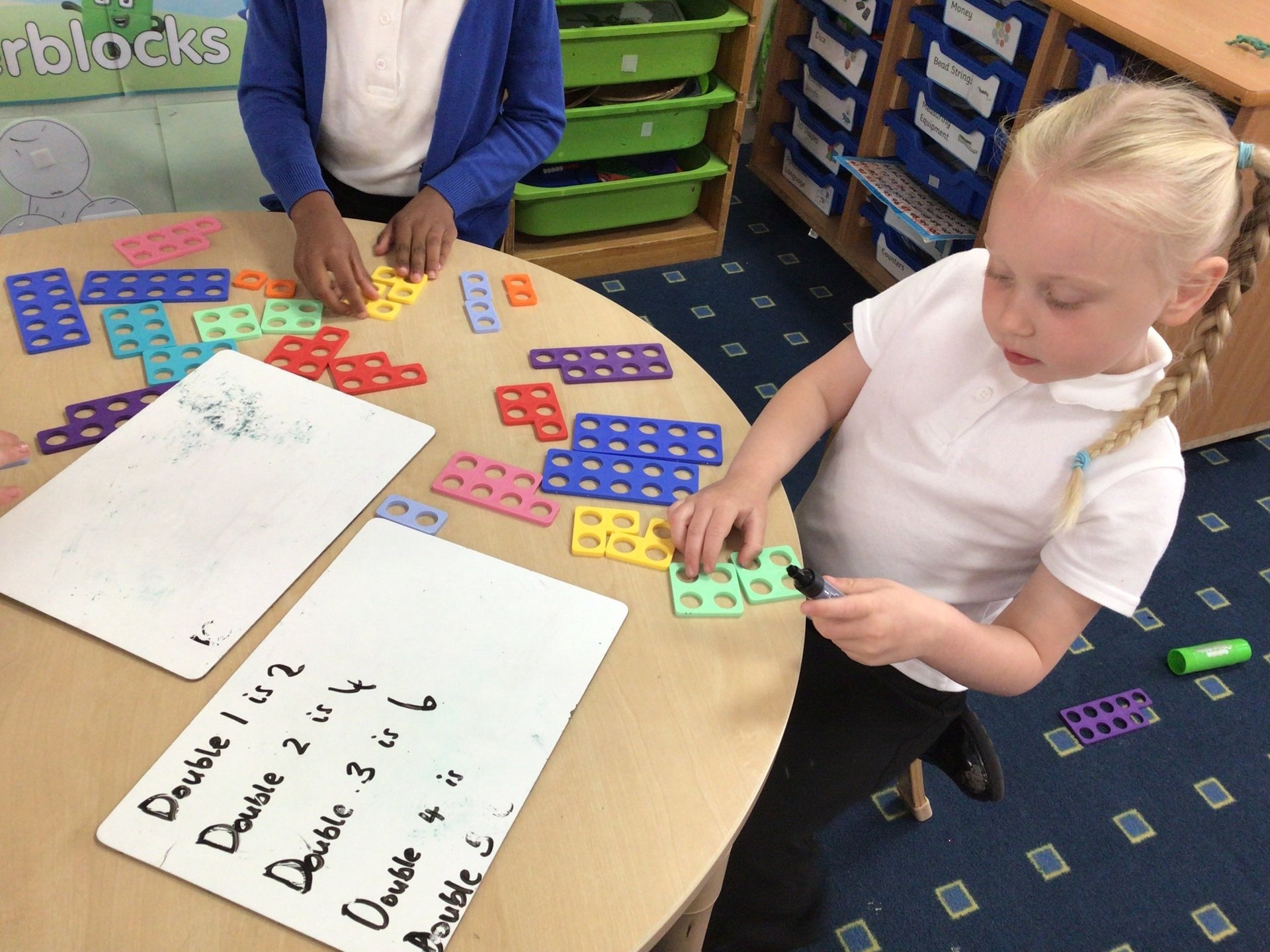 We also tried our best to keep cool in the heat! We explored ice and how it melts, played in the water tray and did some magic painting.
We also tried our best to keep
What a lovely week we have had. All of Maple have tried really hard to work on our school rules of ready, respectful and safe. We have been receiving lots of smiley faces.
This week, we have focussed on recalling number facts to 5 and used die and double sided counters to demonstrate.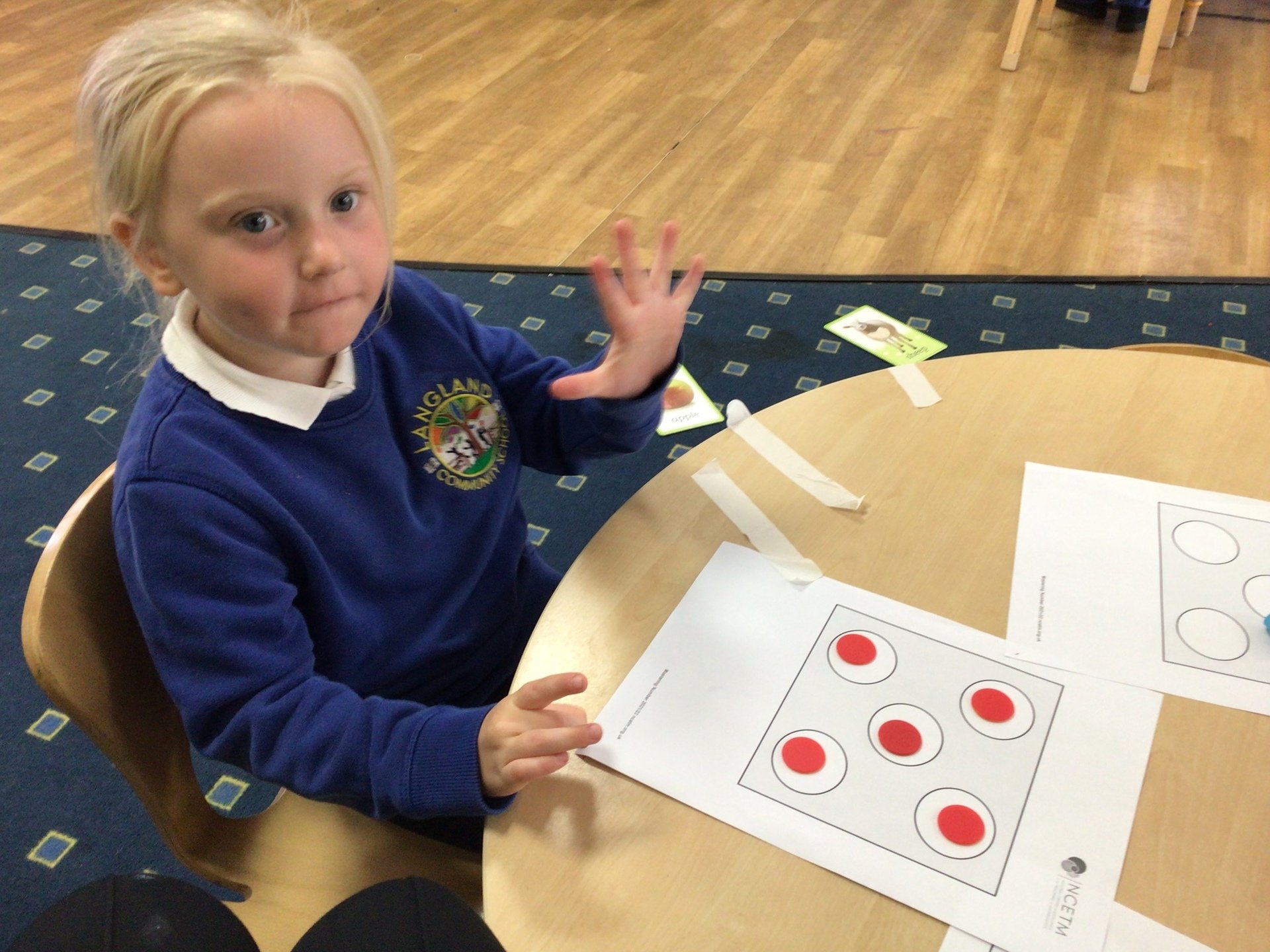 We got out the junk box modelling and it has been a massive success. The children have been making all sorts of designs out of junk and have been so proud to share their creations with us. Lots of children made binoculars as can be seen below.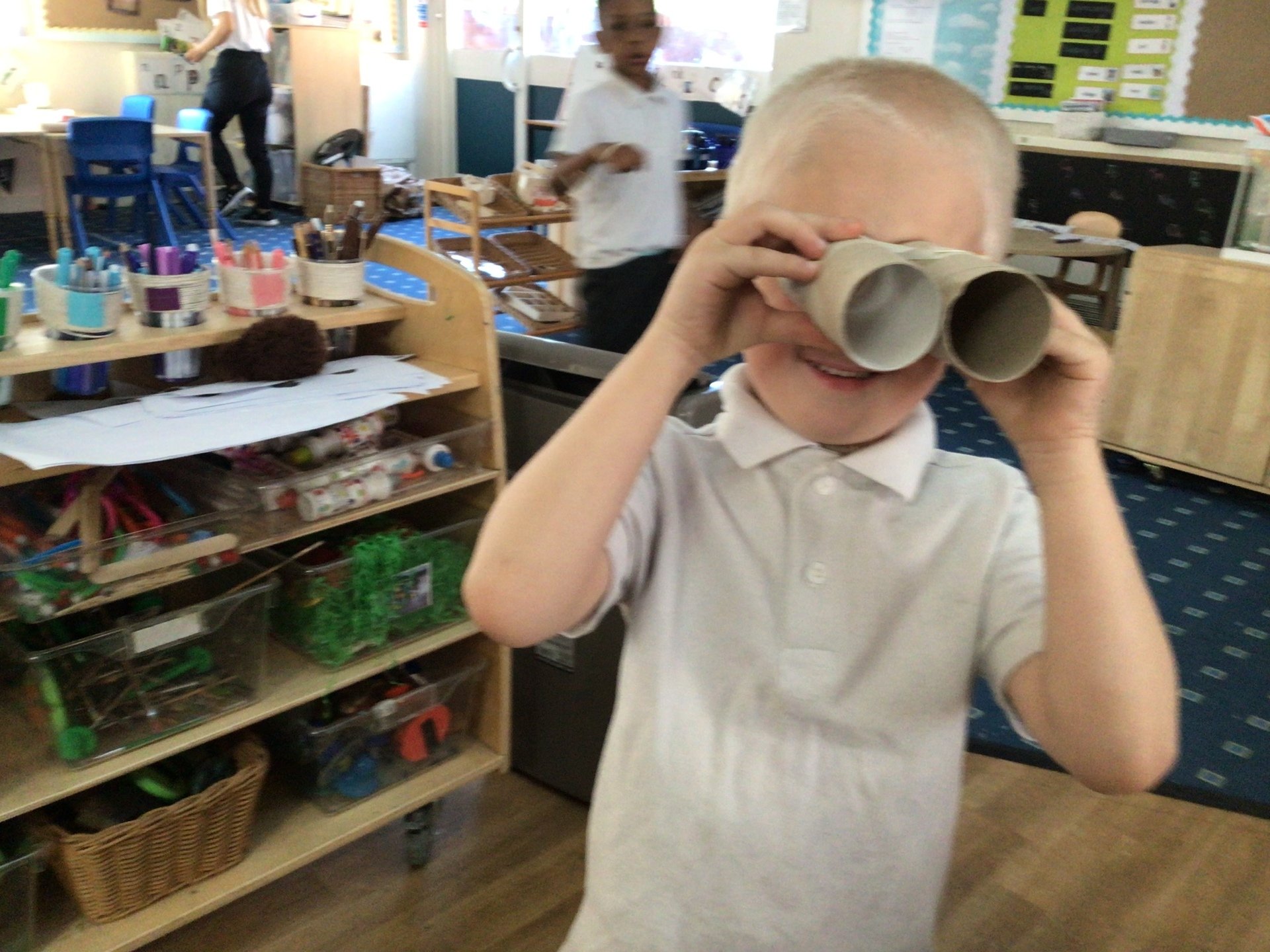 For our Hook Day for our new text The Magic Porridge Pot, we made porridge and ate it for snack. It was delicious. To stop Mrs Clark from cooking too much the children all had to say "Stop Pot Stop!"