Early Years
Take a look at what Early Years have been doing so far this term.
Our PE day is a Thursday
Berry Class (Nursery) Autumn 2
We are all back after our half term break and ready to learn. Berry class will be learning about our new story, 'Rosie's Walk'. We have been working very hard and collecting all the resources to go into our class small world tuff tray to help us retell the story. We have a windmill, hen house and lots of Autumn things.
Whilst exploring the story, Rosie's Walk, the children will be learning about positional language. For the next few weeks, our focus will be under and over.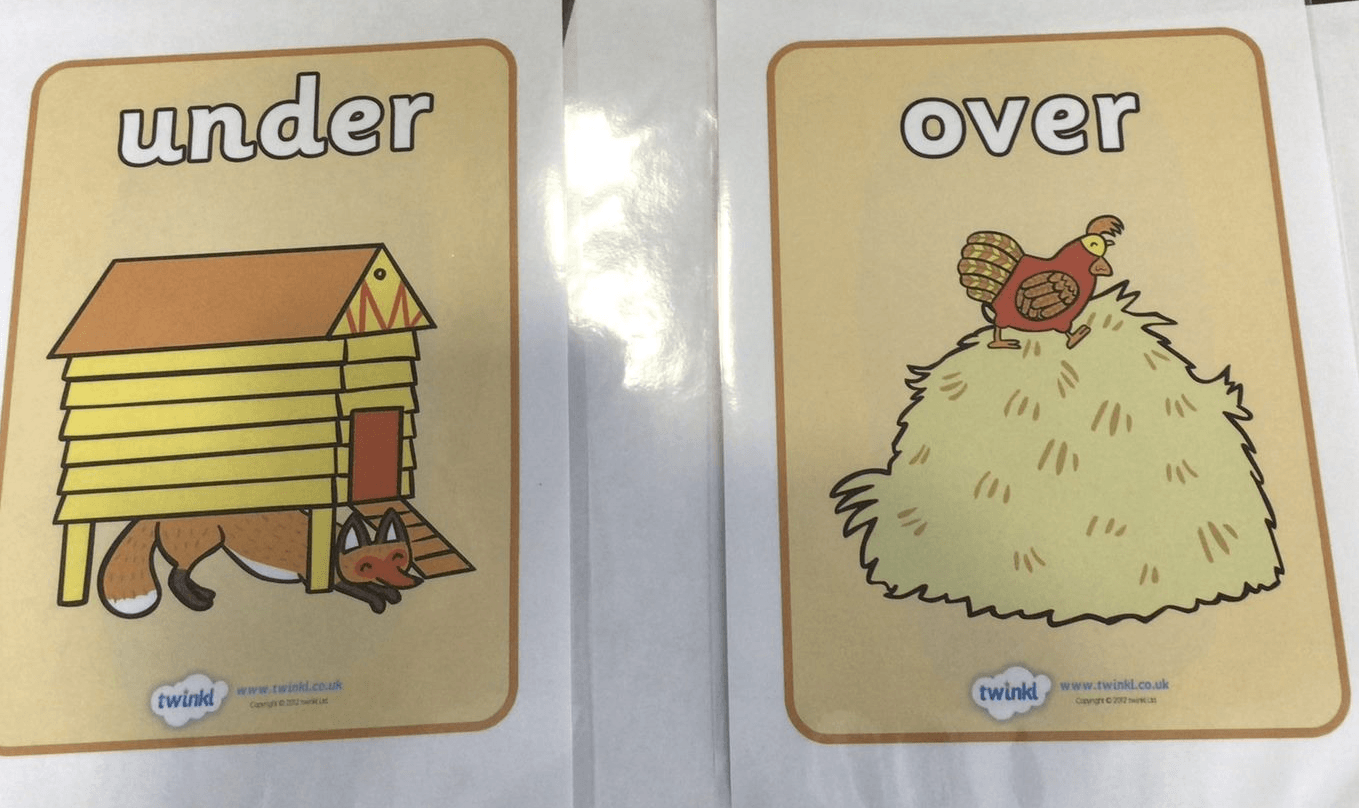 Our colour focus is the colour orange. We have collected lots of things from around the classroom that are orange. What can you find in your home that's orange?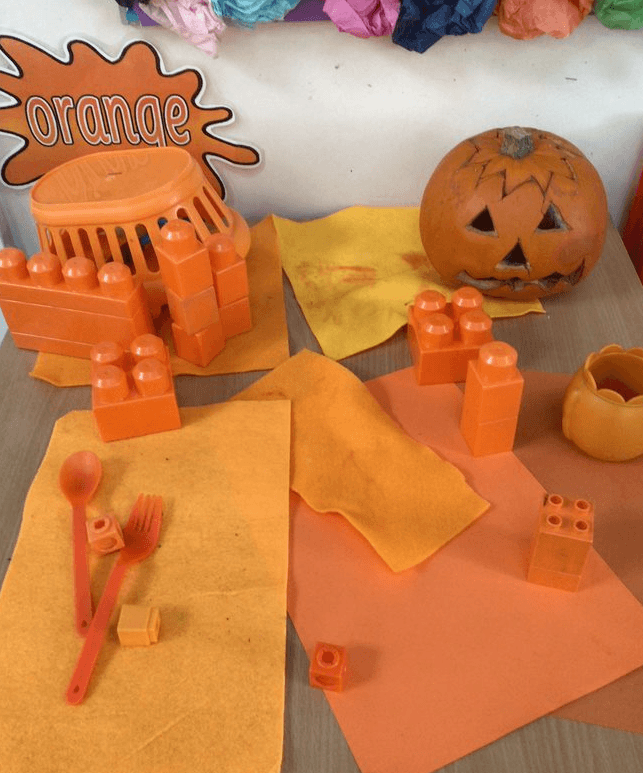 This week Berry have been looking at the vocabulary and practising the phases from our story 'Rosie's Walk'.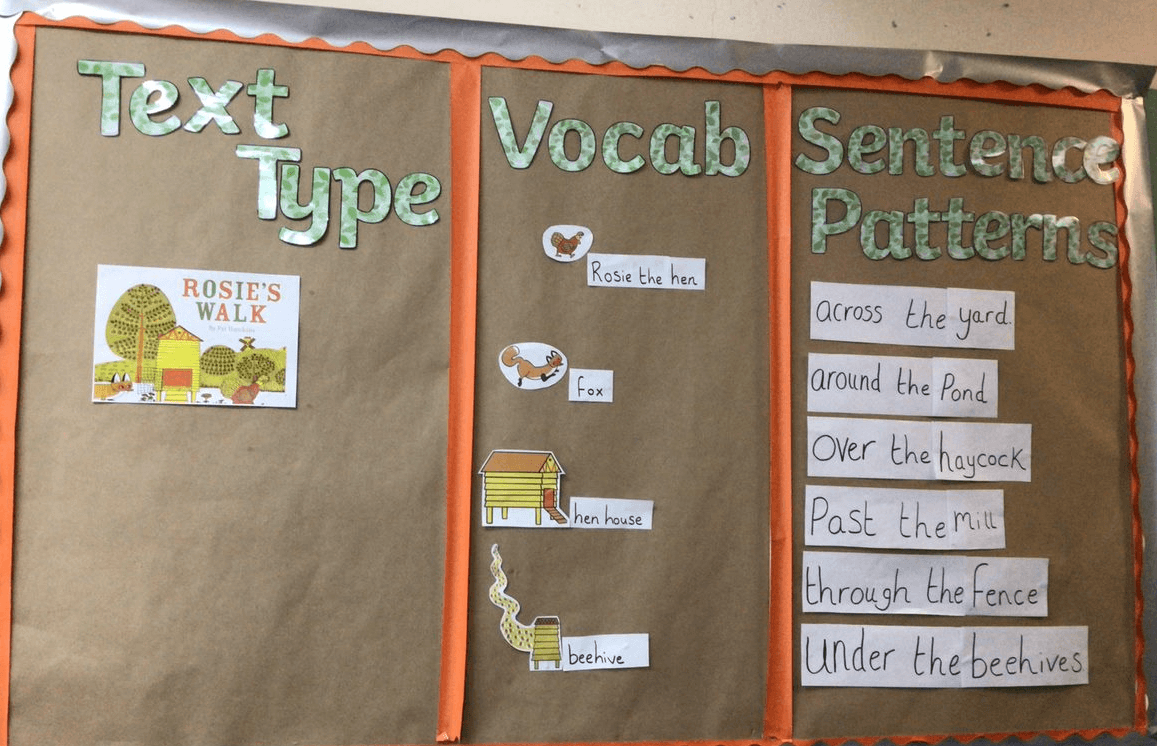 We have been using the small world tuff tray to support us to use our newly learned vocabulary and phrases and act out our story with our friends. We have used finger puppets characters to help us do this.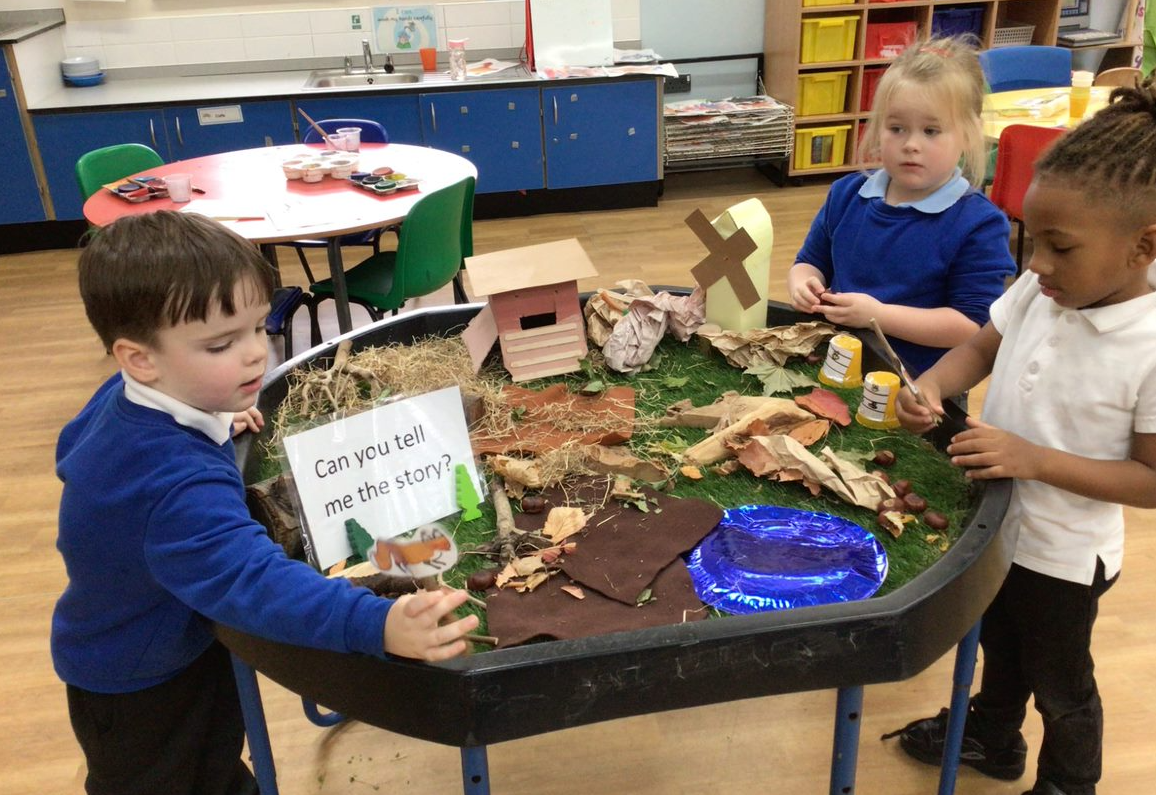 We're have been practising our Kinetic Letters animal positions this weeks, such as; sitting like a bear and standing like a penguin.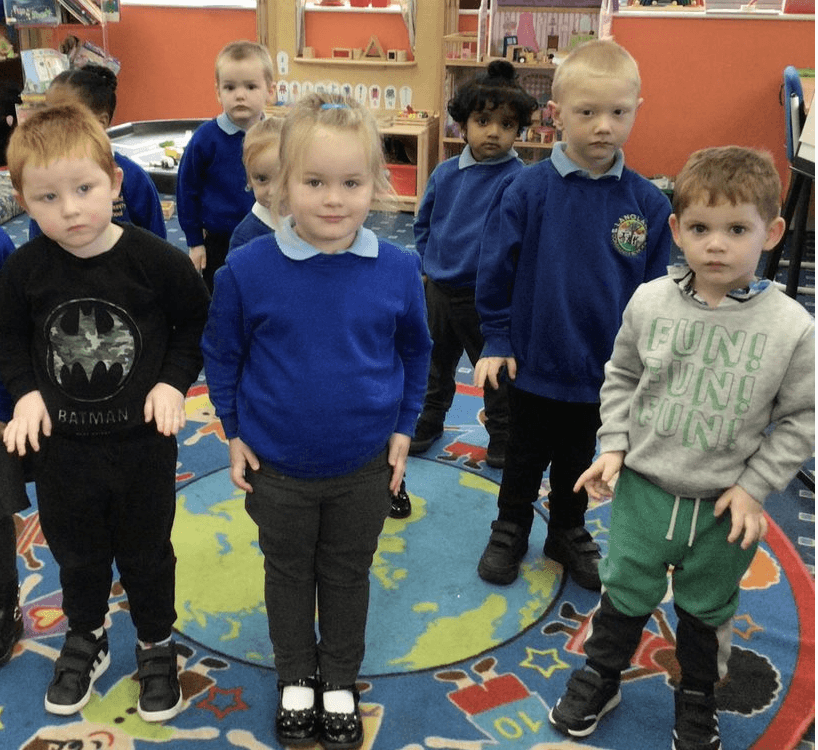 This week we have looked at the characters from our story, Rosie's Walk. We talked about the hen, who has a beak, two legs, wings, has feathers and lays eggs and the fox who has four legs, a bushy tail, fur, pointy ears and nose.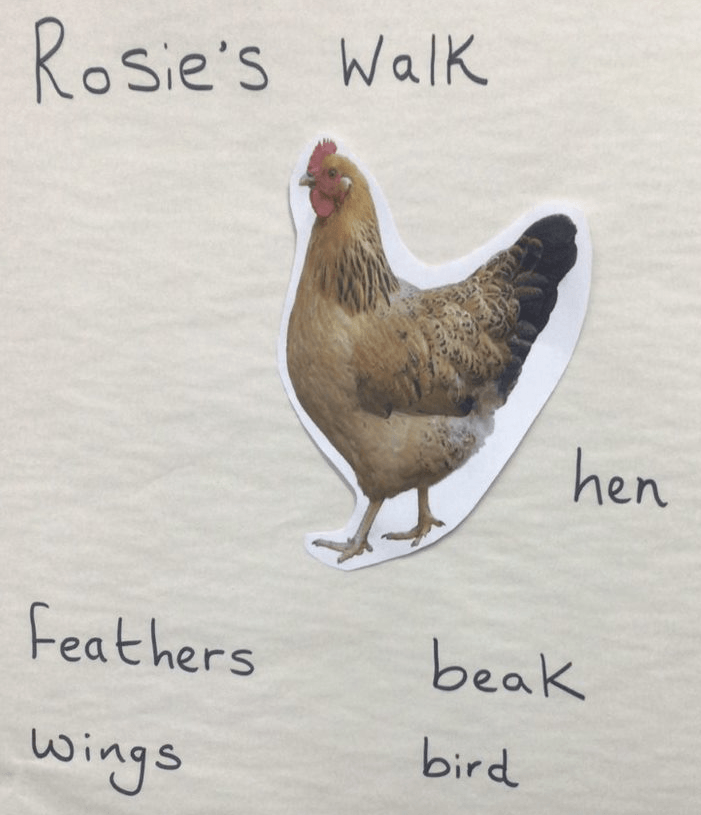 We have also been working hard to learn and repeat phases from the story.
In maths we have been singing counting nursery rhymes and using positional language 'on and off'.
Berry class have been very arty and created some hens using paper plates, pipe cleaners and tissue paper.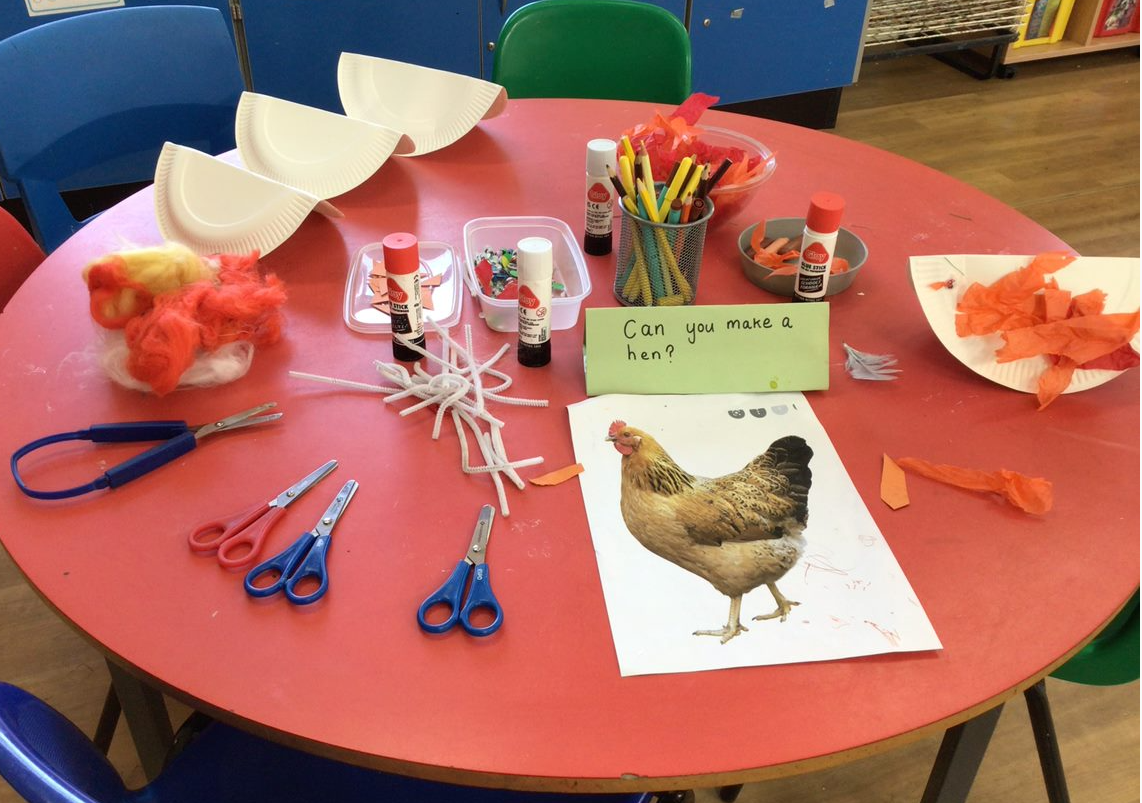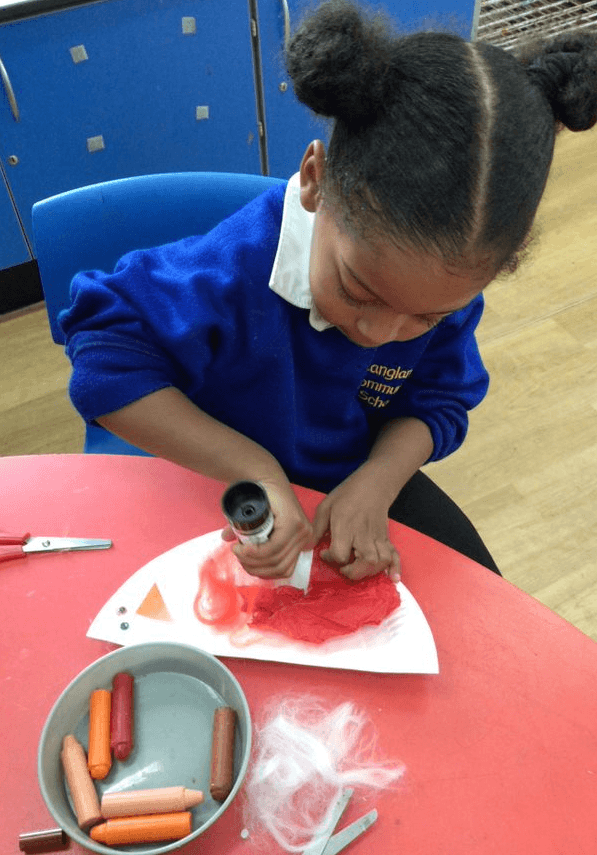 Berry Class (Nursery) Autumn 1
Maple Class (Reception) Autumn 2
Welcome back Maple Class!
We have hit the ground running after the half term break. This week we have started to explore our new Talk for Writing story, The Little Red Hen. We have read the story and joined in with the repeated phrase, "No, not I!". We have enjoyed investigating the wheat, flour and bread that the Little Red Hen works hard to grow, make and bake in the story and we have also had a go at making our own red hens.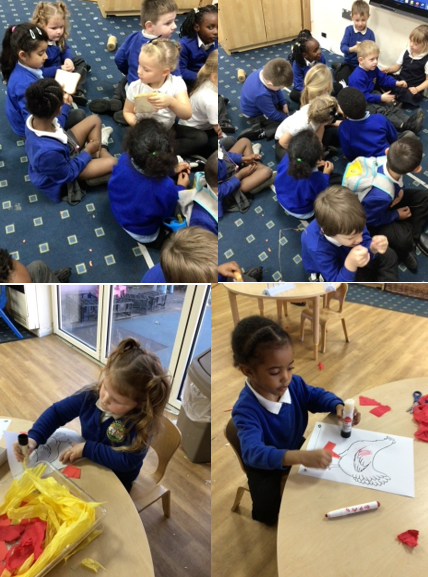 In PE with Miss Jones, we have continued to develop our balancing, jumping and climbing skills. We have been practising how to climb and land safely and to use the equipment carefully.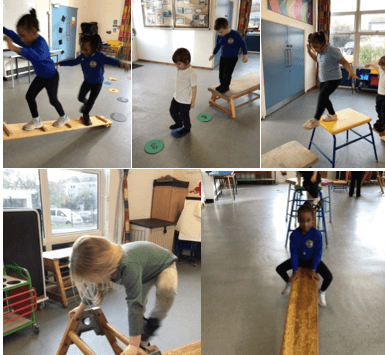 On Friday, we celebrated Bonfire night by using our artistic skills to create firework pictures using chalks and cardboard tubes to make 3D fireworks. We also enjoyed a lovely, yummy treat of hot chocolate, cream and biscuits whilst learning all about how different people celebrate Bonfire night all around the UK.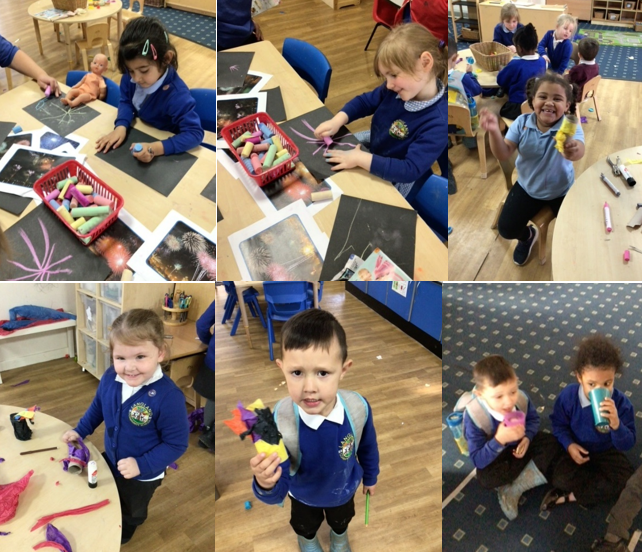 In our outside area, we have been creating our own opportunities to balance, climb and jump inspired by Miss Jones, using our wooden blocks, foam bricks and slide. We worked together as a team to set out the equipment and enjoyed using it together; taking turns to balance and jump.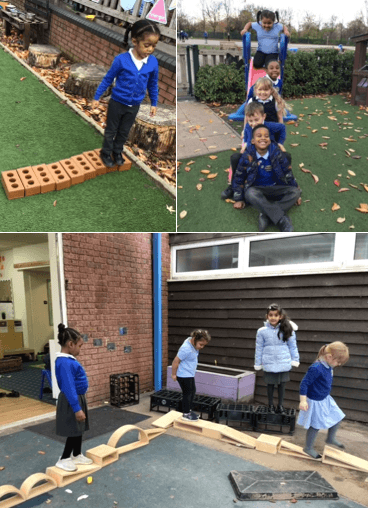 What a fantastic week we have had in Maple Class.
We have enjoyed continuing to explore our Talk for Writing story, The Little Red Hen. This week we have made bread, just like the hen in the story.
The adults had to do a little research to learn how to make bread and to find out what ingredients were needed.
First, we measured out the salt, flour, yeast and water and added them to the mixing bowl.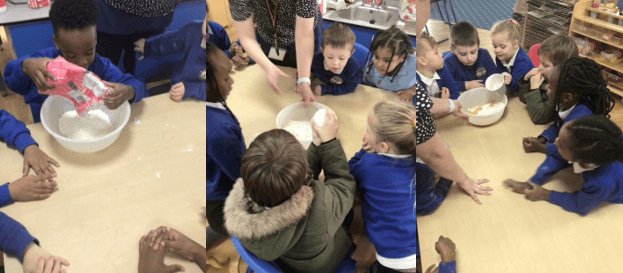 Next, we mixed and mixed and mixed.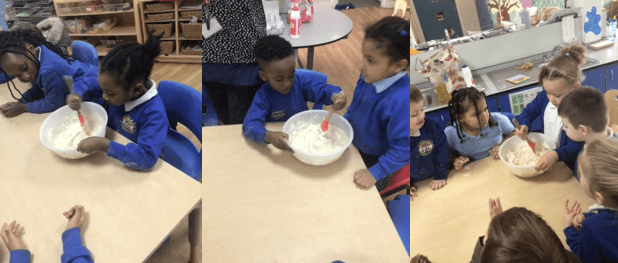 Then, we kneaded the dough and put it on the baking tray.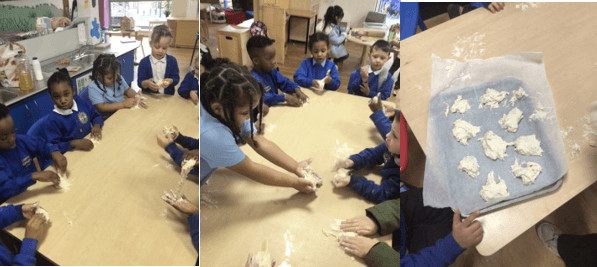 The bread was baked in the oven and once it had cooled... we ate and ate and ate the bread.

Also this week, we have been learning about Remembrance Day and making lots of poppies. We have made 3D poppies using sticks and tissue paper, play dough poppies and abstract painted poppies using sponges.
Christmas has started early in Maple Class as this week we started to rehearse for our Christmas performance. We will be sending home the songs next week for children to practise so please check reading folders.
This week we created yummy chocolatey nests using cornflakes and melted chocolate and used skittles as tiny eggs. We enjoyed mixing the melted chocolate together with the cornflakes!

In maths, we have started learning all about 3D shapes and how they are 'fat' not 'flat'. We have explored 3D shapes by building and constructing them. We have also hunted around the classroom to see which 3D shapes we could find.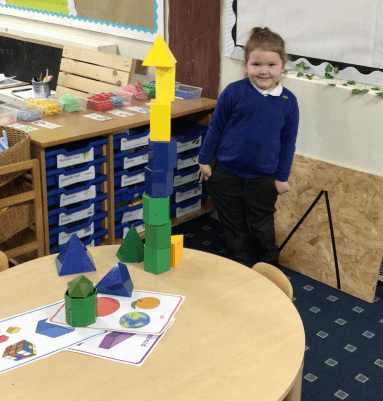 Whilst enjoying the playdough activities this week, we have been thinking about using words to describe what we are doing. We have been squashing, moulding, shaping and rolling.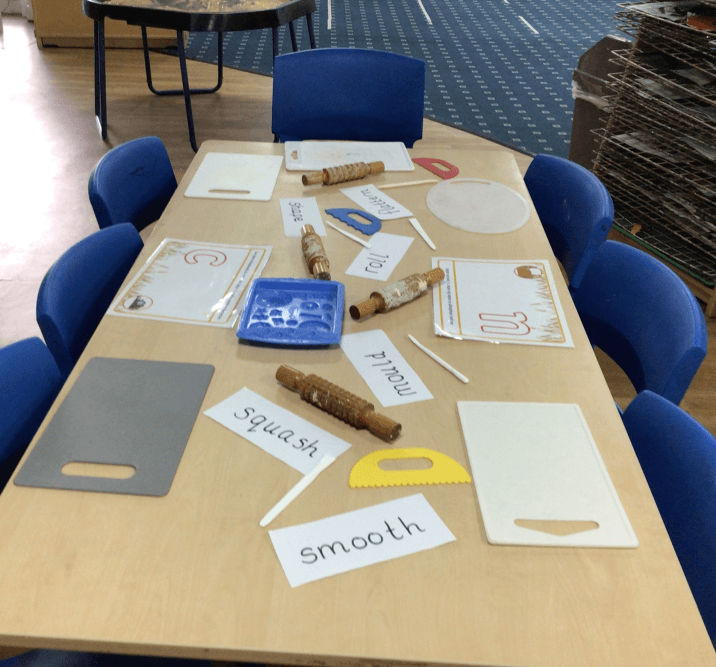 Maple Class (Reception) Autumn 1